By Scottie Bricker
Arizona Daily Wildcat October 3, 1997

Jenkins in at QB for injured Smith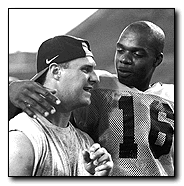 Leigh-Anne Brown
Arizona Daily Wildcat

Keith Smith, left, and Ortege Jenkins share a moment together at yesterday's practice. With Smith out because his shoulder is still bothering him, Jenkins has sought Smith's help all week in preparations for his first start in tomorrow's game.


Keith Smith is not going to start, that much is clear.

The sprained muscle in his right throwing shoulder is still giving the sophomore quarterback problems, so redshirt freshman Ortege Jenkins - who was promoted to second string after Brady Batten broke his collarbone - will take his place.

That may turn out to be just what the Wildcats (1-3 overall, 0-2 in the Pacific 10 Conference) need as they try to turn things around in tomorrow night's matchup with San Diego State at Arizona Stadium. Kickoff is set for 7.

The Wildcat offense has been under constant scrutiny since the nine-point outburst against Oregon in the season opener. And now with Jenkins, who has never started a game and missed all of last season with a knee injury, taking over the reigns, things are definitely going to get interesting- which is what Arizona fans need.

"I will just go out there and do the best job that I can do," Jenkins said.

Hopefully the rest of the team will his example.

"O.J. is a great athlete with a lot of capabilities," UA head coach Dick Tomey said. " The key is to keep him under control, while letting do what he does best: be a play maker."

The Arizona play book will be trimmed down a bit to accommodate the inexperience of Jenkins, but the Wildcats will not sway from their usual game plan.

"We are going to try to do the things that he is most comfortable with," Tomey said. "There is no reason, though, that we should make any drastic changes to our sets."

Neither Arizona nor San Diego State (1-3, 0-1 in the Western Athletic Conference) seem to be headed anywhere fast. Both are in the midst of a losing streak and neither has lived up to the expectations of the preseason.

"They are a lot like we are," Tomey said. "They're 1-3, they came into the season with a lot higher hopes and I think both teams will be very hungry."

Offensively, neither team has been consistent.

The Aztecs are averaging a mere 289.5 yards per game of total offense, unheard of in the high powered Western Athletic Conference, and have scored just 31 points in their last three outings, all losses.

Tomey is aware of the Aztecs troubles but knows they have talented players on both sides of the ball.

"Offensively they have struggled but they've got maybe the best receiver we'll see in Az-zahir Hakim," Tomey said.

Hakim should present the most trouble for an Arizona secondary that has been ripped apart the last two outings against Ohio State and UCLA.

"He's an extremely talented player and he's got the make-you-miss ability that not many guys have," Tomey said.

Arizona linebacker Chester Burnett knows that the defensive unit will have to step up their performance if they are to have a shot at winning.

"They have a lot of great athletes on their team," Burnett said. "We are going to need to be at the top of our game to outplay those guys."

The Wildcat offense has struggled as well, particularly with getting points on the board, despite the fact that they are averaging a respectable 377 yards per game and are first in the Pacific 10 Conference in rushing. However, Arizona is next-to-last in scoring at only 20 points per game.

That is where offensive coordinator Homer Smith hopes Jenkins will make the biggest impact.

Jenkins led the Wildcats on two scoring drives (his first collegiate touchdown was a nine-yard pass to tight end Mike Lucky) in his debut. He finished the day 9-for-15 for 96 yards without an interception.

"Yes, he is inexperienced, but he has a cool head," Smith said. "His knowledge of the offense is not where Keith's is, but their natural abilities to make plays are comparable.

"He has done a an exceptional job in practice and played well in last week's game. It will be interesting to see how he does."

Indeed.