By Kristen Davis
Arizona Daily Wildcat October 3, 1997

Stinson drops hoops to unleash volleyball potential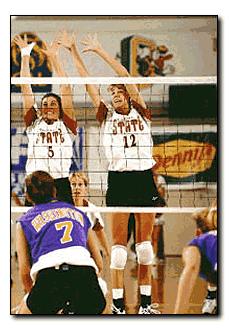 Image Courtesy WSU Athletic Website

Washington State junior middle blocker, Jennifer Stinson (12), goes up for a block against Washington earlier this season. Stinson turned down a scholarship at Arizona to play for the Cougars.


Even women's basketball powerhouses North Carolina, Stanford and Tennessee couldn't lure Jennifer Stinson into signing with them.

The 6-foot-1 middle blocker on Washington State's volleyball team didn't want to play basketball anymore.

"I had played basketball all my life. Ever since I can remember, it was always basketball," said Stinson, a junior whose team plays Arizona tonight at McKale Center. "I don't know if I was burnt out or needed a new challenge or what, but I knew there was a lot of (volleyball) potential for me."

She wound up deciding to take on volleyball and narrowed her choices to Arizona and Washington State.

"It was a big step for her," said WSU coach Cindy Fredrick of Stinson's choice to play volleyball. "As a basketball player she knew she was one of the top in the country but now she's seeing that she can and is becoming one of the top players in volleybal l."

Stinson ended up choosing WSU because it was just two hours from her home in Davenport, Wash. Much of her decision also had to do with the fact that she grew up being a Cougar fan.

"She was one of our top recruits," UA coach Dave Rubio said. "She had tremendous potential and was a fabulous athlete. She would have been a great addition to any program, but I always felt the Cougars had a leg up on us and I knew she was leaning toward Washington State."

Stinson, the current Pacific 10 Conference Player of the Week, has had little trouble adjusting to playing volleyball at the top level. She earned last week's honors by posting 34 kills, 10 digs and 18 blocks in wins over Southern California and UCLA, bo th ranked in the top 20.

She switched to middle blocker in the spring after playing the previous two seasons as an outside hitter and is now second in the conference and sixth nationally in blocks, averaging 1.85 per game.

Since the departure of WSU's Sarah Silvernail, last season's Pac-10 player of the year, Stinson and the rest of the Cougars have been forced to make up for her presence.

They've had little difficulty, leading Washington State to its best start ever with a 16-0 mark.

"Everyone worked really hard last spring and all summer. It was a different attitude," Fredrick said. "They knew each person would have to come out of their shadow more and all of them did. It's different when you know you have to. Maybe they didn't play as hard (with Silvernail) and (after she left) they have realized they can play."

Stinson, whose father was her basketball coach, has been called "golden child" by her teammates in the past. This season they gave her the name "halo kid" for her attitude toward the Cougar coaching staff.

Stinson never really dedicated all of her energy to volleyball until she came to Washington State though.

"I've learned so much about volleyball. There's still so much I don't know about the game, which is kind of scary," she said.

She played volleyball and basketball in high school but played just one season of club volleyball.

"She's amazing in her athleticism. She doesn't make the same mistake twice and is diligent in her desire to get better. She'll do whatever it takes to get better," Fredrick said. "She still has a long way to go and has not quite realized her potential ye t."

Stinson added, "I realized now that I made the right decision because the success our team has had and I can see myself getting better every practice and every year."