By Chris Jackson
Arizona Daily Wildcat October 3, 1997

Cross country prepares for the 'big one'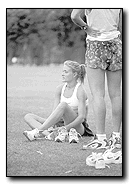 Arizona Daily Wildcat

Amy Skieresz, sitting at practice, is the defending champion at tomorrow's Mountain West Classic in Missoula, Mont.


The UA's cross country teams will venture to the state of Montana this weekend for what head coach Dave Murray calls the first big meet of the year.

"It'll be the first meet where we see how we stack up on the men's side," Murray said.

The Mountain West Classic will feature a greater level of competition than the Wildcats have faced so far this season.

Included in the field are BYU, the No. 2 team in the country, Big 10 Conference power Michigan and Pacific 10 Conference opponents Washington State and Oregon.

The Wildcat men have won both of the meets they've competed in so far this season, the Jammin' Invitational and the Aztec Invitational, led by junior transfer Abdi Abdirahman, who captured the individual title at both meets.

"I'm really anxious to see Abdi and the others go up against some really great individual competition," Murray said. He had cited two weeks ago that his team's win at the Aztec wasn't as impressive due to the lack of quality competition.

As for the women's team, in addition to the stronger field, they will also face the challenge of running their longest race of the year.

The course in Missoula is 6,000-meters, as opposed to the 5,000m that the women run in all of their other meets.

Murray believes, though, that a longer course will benefit his team rather than harm it.

"It's a real plus for Amy (Skieresz), because the longer it is the better she is," he said.

Skieresz came in first in both of the earlier meets, while as a team the women finished second and third.

She is also the defending individual champion at the Classic, but Murray is focusing less on Skieresz and more on his No. 4 and 5 runners.

"Our top three are running what they're capable of," he said, referring to Skieresz, Virginia Camacho and Tone Bratteng. "We need our number four and five runners to step it up this week."

Murray is looking at sophomore Kristen Parrish, who sat out the last meet after being diagnosed with a low potassium level, and junior transfer Katrin Engelen, whom Murray said is still working her way into shape.

"Katrin is making day-to-day improvements," Murray said. "She also does better in long distance runs, so I expect her to have a real good showing."

Meets like this are important because they give the Wildcats a chance to compete against teams from other districts. To get into the NCAA Championships, a team has to either finish first or second in its district or it will get one of four at-large bids.

Murray said that the Wildcats need a good score against Michigan and BYU, two powers in their respective districts, if UA should finish third in District VIII. It would help their cause if they needed to qualify for an at-large bid, Murray said.