By Kristen Davis
Arizona Daily Wildcat October 3, 1997

UA looking to break Cougars' streak, extend its own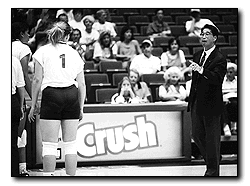 Nicholas Valenzuela
Arizona Daily Wildcat

UA volleyball coach Dave Rubio gives advice during a recent Arizona match. The Wildcats' will face Washington State at McKale Center starting at 7 p.m.


No matter what happens tonight in Arizona's volleyball match, someone's streak will be broken.

The Wildcats have won 12 straight home games at McKale Center and are looking to break the record with a win over Washington State at 7 p.m.

The Cougars are hoping to extend their school record 16-0 start.

A victory over Washington State will not come easily. Aside from its first place standing in the Pacific 10 Conference, they are the sixth-best team in the nation.

"The interesting thing about Washington State is they lost their best player (Pac-10 Player of the Year Sarah Silvernail) and they're playing as well without her," UA coach Dave Rubio said. "I attribute that to the fact that they have a lot of seniors and as a group are well balanced.

"I credit their coaching staff for maximizing the potential each player brings to the floor."

Arizona (10-1, 2-1) wraps up the weekend Sunday with an 11 a.m. match against Washington.

Last season, the Wildcats split the series with the Washington schools. Their two wins came at home in November when they were ranked No. 25.

"We played really well that series and the reason was because it was a must-win situation for us to get to the tournament," Rubio said.

There may not be quite as much riding on this series, but don't try to tell the team that.

"There's even more motivation because they're sixth in the nation so it'd be an upset and great for motivation," Freshman Marisa DaLee said.

UA travels to Northern California next weekend to take on fourth-ranked Stanford, the defending national champions.

"It goes without saying that we need to play well," Rubio said. "(The Cougars are) just a very good team and we need to be steady and play with the same characteristics their team demonstrates."

Washington State's defense is limiting opponents to a conference-best .103 hitting percentage. Junior middle blocker Jennifer Stinson is second in the league and sixth nationally with a 1.85 blocks per game average. WSU complements their defense with the third-best hitting percentage in the Pac-10.

Rubio called their offense an, "unorthodox system," because they run different routes and the setter, Stephanie Papke, gives them a different look. Papke, who ranks third in the conference in assists, averaging 12.70 per game, is a six-foot left hander.

Cougar coach Cindy Fredrick, preferred to describe her offense as a, "very creative" system.

"We're definitely not stuck in a pattern where outside hitters hit outside and middles hit in the middle, which makes for a lot of fun for the players and it's a different look for opponents," Fredrick said.

The unranked Huskies are 8-5 overall and are tied with Southern Cal for the third-best mark in the conference at 3-1.

After Wednesday's practice Rubio harped on the team for missed serves and playing without composure.

"The bottom line is that we need to execute," Rubio told the players. He added that players need to step up on the court now that Barb Bell, the team's long-time leader who graduated last spring, is gone.

"We need consistency in practice, which carries over into the match," Rubio said.

"We can afford to have one player have an off night, but we can't afford to have three or four."