By Edina A.T. Strum
Arizona Summer Wildcat August 27, 1997

University accused of discrimination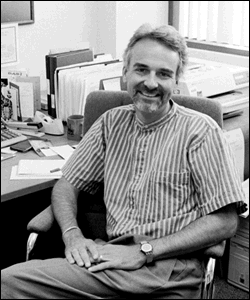 Dan Hoffman
Arizona Daily Wildcat

UA Director of Cultural Affairs, Ken Foster, has been named in an age and gender discrimination suit against the UA by Mary Hemmings, former Associate Director of Cultural Affairs.


A civil suit alleging age and gender-based discrimination and wrongful termination has been filed against the University of Arizona and the Arizona Board of Regents in the U.S. District Court for the District of Arizona.

The suit, filed by former UA Associate Director of Cultural Affairs Mary Hemmings, alleges violations of Hemmings' First and Fifth Amendment rights, violation of Title VII of the Civil Rights Act of 1964 and violation of the Age Discrimination in Employment Act.

Hemmings states in the suit that her problems in the department began when she noticed irregularities in the 1993-94 search for a new director of Cultural Affairs.

During the interim between directors, Hemmings served as the acting director of Cultural Affairs.

One irregularity mentioned in the suit is that although then-Vice President Celestino Fernandez told Hemmings she could apply for the permanent director's position, her application was summarily dismissed.

The suit goes on to state Hemmings had won many awards and praise for her job performance in the department, where she began working in 1988 as the business manager.

Hemmings reported her concerns to Fernandez and UA Affirmative Action Director Janie Nuñez. Hemmings states she got a verbal response that refused to address her complaint.

Susan Free, associate director in the affirmative action office, said she could not comment on a specific complaint, such as Hemmings', because the office ensures privacy to all people filing complaints.

However, she said each formal complaint is investigated and a determination of whether discrimination occurred is made and reported back to the person.

Last week Fernandez, who is now the executive vice president and provost of the Arizona International Campus of the UA, said the time during the search was hectic, but he does not recall anything unusual. As for the lawsuit, he said: "I haven't seen the suit, so I can't comment on it."

The last time Cultural Affairs was under Fernandez' supervision was December 1994.

Aug. 1, 1994 Ken Foster was named permanent director of Cultural Affairs, a position he still holds.

The first count in the suit alleges age discrimination.

Hemmings states in the suit that while Foster was initially cordial to her, he soon began stripping her of her work responsibilities and began making "disparaging remarks" about her age. Hemmings is more than 40 years of age.

However, Foster said yesterday "I absolutely did not make any of those comments."

She states in the suit that Foster began calling her "the old lady" and increasingly made an issue of her age, to the point that "Hemmings noticed the staff became uncomfortable."

Other employees in Cultural Affairs were surprised by Hemmings allegations.

Ana Marie Acuña, who worked with Hemmings, said she never heard any comments that were derogatory to Hemmings.

As for Foster, Acuña said he "has been the best person in the world to work with."

Before Foster took over the department, Hemmings states she had handled marketing of the first three shows of the 1994-95 season. All three were sellouts. Nevertheless, Foster decided to take over marketing himself. Once Foster began those duties, revenues "were running well below projection," according to statements in the suit.

The suit also states that when Hemmings repeatedly approached Foster to discuss the drop in revenues he ignored her suggestions and lowered the revenue projections for the remainder of the 1994-95 season.

Foster finally told her he was "bagging the season," and later added that he wanted his first season's bookings, 1995-96, to be a big success, so it would help if the previous year were especially bad.

Hemmings reported this information to the University Legal Office in June 1995.

Foster said he could not imagine what he could gain by sabotaging a season, and said he did no such thing.

About this time, Hemmings alleges in her suit that she received a letter stating Foster was not happy with her and he was going to eliminate her position, signed "Someone Who Knows."

Foster said he was never dissatisfied with Hemmings' job performance and her dismissal was purely an economic decision.

The second count in the suit alleges gender-based discrimination.

"Foster treated Ms. Hemmings with disdain and undermined her authority around the office because he views women as second-class citizens," the suit states.

Another female employee with Cultural Affairs, Melinda McLeod, said she has never seen Foster display negative views toward women, or negativity toward any person.

"He's one of the nicest guys on the planet," she said.

The final allegation in the suit is wrongful termination.

Hemmings alleges that from January to March 1995 Foster's unprofessional conduct toward her intensified and he further reduced her work duties.

On March 29, 1995 Hemmings was told her contract would not be renewed, due to budgetary constraints. However, she states in the suit the department had received an additional $1 million in its 1995-96 budget.

Natalie Bohnet, director of finance and administration for UAPresents, said the issue of the budget was not only how much money there was, but how it was spent.

"The money was too heavy into administration," Bohnet said. The budget needed to be spent for revenue-generating activities, such as marketing, she added.

To this day, the department is operating with a reduced staff, Bohnet said.

When Hemmings brought these concerns before the University Attorneys, her contract was extended for two months pending investigation. At the end of that time she was fired.

The suit seeks reinstatement of Hemmings' position; all back wages, at her final salary of $58,816 per year, and unspecified punitive damages.

Jacqueline Schneider from the UA Attorneys' Office said she has not seen the suit, which was filed on Aug. 12, and "We have no comment on pending litigation."

Hemmings was advised by her attorney to make no statements at this time.