By Todd Hardy
Arizona Daily Wildcat October 10, 1997

Likins says campus crime 'has to be reported'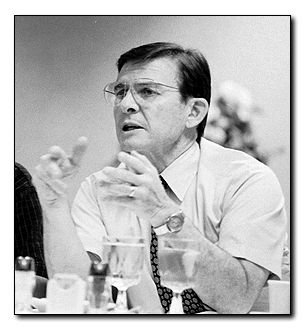 Robert Henry Becker
Arizona Daily Wildcat

UA President Peter Likins


Eleven years ago, Jeanne Clery, a 20-year-old Lehigh University student, was beaten, raped and murdered in her dorm room by another Lehigh student.

The murder thrust Lehigh into the national spotlight as Clery's parents filed a civil suit alleging the Pennsylvania university was hiding crime statistics that indicated a large number of violent, on-campus crimes in the two years before their daughter's death.

Peter Likins was president of Lehigh when Jeanne Clery was murdered.

"It was one of the most painful, distressing experiences of my professional career," said Likins, who is now president of the University of Arizona.

Clery's parents, Howard and Connie, were convinced Lehigh underreported campus crime to protect its reputation.

The incident sparked a 1990 federal law, known as the "Clery Bill," that requires colleges and universities to disclose their security policies and annual statistics of all violent crime on campus.

This semester, two rapes involving UA students were reported to local police.

In both cases, the UA Dean of Students Office would not confirm any rape inquiries. Alexis Hernandez, an associate dean of students, said another law, the Family Educational Rights and Privacy Act of 1974 that protects educational records, prevented him from confirming the incidents. He claimed educational records extend beyond academics to records regarding code of conduct violations, including rape investigations.

"Once we're looking at a case then we can't talk about it at all," Hernandez said. "We can't even verify that we're looking into it."

In a meeting Monday with the Arizona Daily Wildcat, Dean of Students Melissa Vito and UA attorney Mike Proctor said the university must be careful not to violate FERPA when disclosing campus crime statistics.

They said all violent crimes reported to the UA Police Department are included in the federally mandated annual crime report.

Crimes reported to the Dean of Students office are also included in the report, however Vito and Proctor said they are not legally required to disclose that information. They said disclosure depends on the victim's need for confidentiality.

According to a statement issued by the Department of Education though, a college or university's crime statistics must include criminal offenses reported to "local police agencies or to any official of the institution with significant responsibility for student and campus activities."

DOE regulations specifically state this statistical information is not protected under FERPA. The department can pull federal funding from universities that disclose information from a student's educational record.

In an interview yesterday, Likins said he is still unfamiliar with the UA's crime reporting procedures.

"As a newcomer, I can only hope that we are fully and honestly disclosing all information about crimes on this campus," Likins said.

He said the aftermath of Clery's murder underscored the importance of being forthright - even when honesty invites criticism.

"When something goes wrong, do not hide it," Likins said. "We are not going to lose our jobs because we are honestly acknowledging wrongdoing."

In a telephone interview Wednesday, Howard Clery said many universities across the nation use FERPA as an excuse for hiding crime statistics. He said crimes handled "in-house" by the administration are often kept out of a university's annual report.

"They think they're doing the university a favor by keeping things so confidential," he said. "Actually, they are putting the university in jeopardy of being an accomplice by not reporting it."

The Clerys formed Security on Campus Inc., a non-profit organization that helped secure congressional passage of the Student Right-to-Know Campus Security Act of 1990, the "Clery Bill."

"The spirit of the law is to say how dangerous it is to attend a university," Howard Clery said. "People really want to know, how safe is my son or daughter?"

Likins agreed that the legislation is a necessary step in the prevention of campus crimes such as fraternity hazing and sexual assault. He said sex crimes like acquaintance rape are "distressingly prevalent" on college campuses nationwide.

"It has to be reported," Likins said. "It has to be on the table. It would be a healthy thing for everybody if student newspapers had more opportunity to report the reality of acquaintance rape."

Likins maintains that Lehigh, a private university in Bethlehem, Penn., was a safe campus where crime statistics were reported regularly.

He characterized Clery's murder, the only murder in Lehigh's history, as a tragic, isolated incident that forced colleges and universities across the country to examine their campus security policies.

"If there can be danger in a place like Lehigh, then by gosh, it can happen anywhere," Likins said.

Lehigh negotiated a settlement with the Clerys for an undisclosed amount of money. Jeanne Clery's assailant, Josoph Henry, was sentenced to death for the murder and now awaits execution in Pennsylvania.