By Kristen Davis
Arizona Daily Wildcat October 10, 1997

Volleyball team needs near-perfect play to defeat Stanford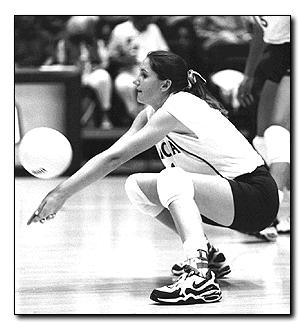 Nicholas Valenzuela
Arizona Daily Wildcat

Sophomore outside hitter Raelene Morton digs a ball in last Sunday's match against Washington. Morton and the rest of the Wildcats face a stiff challenge on the road against Stanford tonight.


Raelene Morton, one of the Arizona volleyball team's starting outside hitters, may want to write the words "hope" and "pray" on her fingernails before tonight's match against powerhouse Stanford.

Morton, a sophomore, always writes a letter on each fingernail to spell a word before each match. Last week against Washington State, her nails read "power" and "pride."

The No. 15 Wildcats will need more than that to defeat fourth-ranked and defending national champion Stanford in Palo Alto, Calif., before taking on Cal (6-8 overall, 1-4 in the Pacific 10 Conference) Saturday at 7:30 p.m.

"Stanford is just head and shoulders better than everybody right now. For us we need to make sure we focus on playing the best possible match we can play and regardless of what happens, be ready to play against Cal," UA coach Dave Rubio said.

Arizona is 3-17 against teams ranked in the top five under Rubio.

Stanford leads the series with UA, 30-2 with the Cardinal winning all 15 matches played in Palo Alto.

"We're capable of coming up with anything we need. With our flexibility, we don't have to rely on one strength," Stanford coach Don Shaw said.

No kidding.

The Cardinal has swept its last nine opponents, having not lost a single game since Sept. 6 when top-ranked Penn State won in four games.

Shaw is careful not to let his team become overconfident and look past any team. He and his players are aware of the stakes Arizona has riding on the contest though.

"Every night teams are trying to give their best shot. It's a season maker to beat us," Shaw said. "They'll talk about it for a long time, but if we beat them it's just another tough Pac-10 match we won"

The Cardinal has won 12 straight conference matches, but must be wary of the Wildcats, who upset the Cougars last weekend.

"They are always very athletic," Shaw said of Arizona. "They're very deep and may be the deepest team in the conference. They can go to the bench and bring any player in."

The unranked Golden Bears are ninth in the Pac-10. Senior Jennifer Dinaberg, a four-year starter at hitter, leads Cal, who has dropped seven of its last eight contests.

"I have no problem motivating them for the Stanford game," Rubio said. "The big thing is we need to make sure we're investing the same (energy) into both matches."