By Josh Schneyer
Arizona Daily Wildcat October 13, 1997

Phone psychic hung-up on industry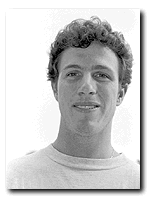 Arizona Daily Wildcat
Josh Schneyer

Jojo Savard is a world renowned psychic, and TV spokeswoman for her own Canadian network of phone psychics. She's also a blonde with pouty lips, presumably collagen-enhanced. Last year, while living in Montreal, I found myself face to face with Jojo, and the mink head on her coat, in a French cafe. Unable to restrain myself I struck up banter:
Josh: Excuse me, but aren't you the famous psychic, Jojo Savard?
(Excusez madame, mais n'êtes-vous pas Jojo Savard, la fameuse voyante? )
Jojo: The one and only. (La même.)
Josh: Pleasure to meet you, Jojo - And what, may I ask, is my name? (C'est un plaisir, Jojo...Et moi, je m'appelle comment?)
Jojo, taken aback by my mockery, retreated with her mink tale between her legs, and my faith in psychics, however meager, disappeared with her. This is why I have never succumbed to the infomercials that promise 10 free minutes. But lots of us North Americans do succumb. Like cattle approaching the slaughterhouse, we are coaxed in by innocent curiosity.
The other day a former phone psychic gave me an insider's look at the industry. My interviewee, who asked to remain anonymous, is a college student and a Tucson resident. She recently quit her job as a phone psychic, calling the line of work "educational, but morbid." Here's what she told me:
How did you land employment as a phone psychic?
My aunt, my mother and I, we all got psychic jobs at the same time by answering an ad in the newspaper. At first, it seemed like an ideal job. You work at home and choose your hours; student by day, psychic by night. Nighttime is when people get desperate. They break down and call the network.
What are the required job qualifications?
None, as far as I could tell. There aren't enough psychics to go around, given the volume of incoming calls. The networks don't exactly hand-pick their employees. It's a boom industry. Anyone with a pulse and a phone can work in it, but nobody knows how long the fad will last. Frankly, I was overqualified for the job.
So you don't need a sixth sense on your résumé to get the job - But you 're overqualified. Does that mean you're the genuine article, a real psychic?
(Laughing) Oh no ... I'm a skeptic, not a psychic. What I meant is that most phone psychics, like the callers themselves, are small-town housewives. I'm overqualified because I'm educated, and I've got a background in sales. Selling someone their dream future is easy. A successful phone psychic says what callers want to hear, just like a good salesperson. My mother couldn't cut it. She really believes in telepathy, but she's too honest, too ethical. She used to tell people when their free minutes were up - I mean, she might be a prophet, but she can't turn a profit.
Is there any difference between agencies? Do they all prescribe the same phone etiquette?
There are lots of different networks advertised, but I think most of them are one in the same, that they're all connected to the same parent company. When you get hired, there's an hour of phone training - pretty much a joke. Then they send you a packet of information - Do's and don'ts. Like, do charm people into forgetting how long they've been on the line, and don't make any predictions you can be held accountable for; no lottery numbers, and no answering the often asked question, "When am I going to die?"
The job seems easy enough, why quit?
It only pays $7 an hour, and it's definitely not easy - at least not on the soul. Callers tell you things you just don't want to know. You're like a confessionary, an underpaid bartender with miserable regulars. I mean, you see the darkest, loneliest side of humanity - the underbelly of America. It gets to you.
One time, a guy called me up and said, "I beat my wife and she left. Where can I find her?" What do you tell this guy, to look at the neighbors' house?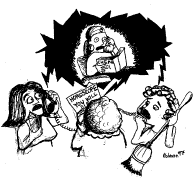 Then there are times when you feel like you're giving the caller a real lift. There was a lady who stayed on the line with me for a whole hour - That's the maximum allotted time. She was being beaten on a regular basis at home, and I tried to help her come to terms. I suggested she go to a clinic, and she pretty much agreed to go. When I hung up I felt really good.
Then I stopped to think - 60 minutes at $4 a minute. That was $240 she blew, probably the better part of her welfare check: another month of skimpy meals for her kids, and beatings for her. That's when I quit. I mean, sales may be ethically shaky, but this was like a mortal sin - I don't commit mortal sins for $7 an hour.
Forgive me for prying, but since you are a psychic by industry standards, any chance that UA basketball will win back-to-back championships?
That's the kind of question they tell you not to answer - a definite industry don't. Anyway, in my "professional" opinion, and at the risk of jinxing the team, I would say that a Wildcats' back-to-back just isn't written in the stars.
The truth is, I'm sick of saying what people want to hear.
Josh Schneyer is a non-degree seeking graduate student.