By Scottie Bricker
Arizona Daily Wildcat October 13, 1997

Arizona shuts down Stanford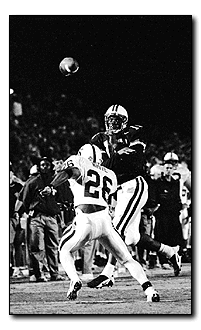 Charles C. Labenz
Arizona Daily Wildcat

UA quarterback Ortege Jenkins (16) throws in midair as Stanford cornerback Alistair White closes in. Jenkins threw for 167 yards and four touchdowns in the Wildcats' upset. For Jenkins, it was his second win in two starts at quarterback.


For the first time this season the Arizona football team avoided its characteristic first-quarter woes and woke up to the challenge of playing a complete college football game.

The Wildcats used a strong defensive effort and four touchdown passes from quarterback Ortege Jenkins to pull off a 28-22 upset win over the 16th-ranked Stanford Cardinal at Arizona Stadium Saturday night in front of the 40,273 that were in attendance.

The win was the first over a ranked opponent for the Wildcats in 10 tries.

"We knew this was a do or die game that we had to have," said linebacker Marcus Bell who led the team with 11 tackles. "We were ready to play and we did what we had to do to win."

The Wildcat defense held the Cardinal to just 236 total yards of offense, 180 below its average, and impressed Stanford head coach Tyrone Willingham by causing five fumbles.

"They have a good, sound defense," Willingham said. "Stripping (the ball) is part of any good defensive game plan. I don't know if that was the sole reason (for the loss) or if it was something that we did fundamentally wrong."

Arizona's defense held the previously potent pair of Anthony Bookman and Mike Mitchell to just 33 yards on 18 carries, by far their season low.

"Our defense played outstanding tonight," Arizona head coach Dick Tomey said. "Having Mike (Szlauko) back really helped our pressure and caused them (Stanford) a lot of trouble."

Szlauko returned to action for the first time in three games and recorded six tackles, all for a loss, including three sacks.

"You really have to give credit to our entire defensive line," Szlauko said. "We scouted their running game heavily and we didn't want them to get on a roll. They had a great offensive line but it wasn't their day. We weren't going to let it be their day."

But the defensive effort did not win the game on its own.

The Wildcat offense was impressive for the second week behind the careful guidance of Jenkins, who has thrown seven touchdown passes and only one interception in his two starts.

"I just felt real confident out there," said Jenkins after completing 18 of 34 passes for 167 yards. "I have a great receiving corps that allows me to spread the ball around. I like to throw to all of them."

Jenkins completed passes to six different receivers, including six each to his favorite targets Dennis Northcutt and Rodney Williams.

Jenkins connected with Williams to open the scoring in the first quarter on a nine-yard pass.

The Cardinal came right back on the ensuing drive, taking the ball 66 yards on nine plays as quarterback Chad Hutchinson hit Troy Walters on a five-yard slant to tie the score at seven.

The Cardinal special teams put its team on top as Jeff Byrd blocked a Ryan Springston punt and Frank Primus scooped the ball up and ran 21 yards for a Stanford touchdown. The extra point bounced off the left goal post and Stanford led 13-7.

Springston injured his left knee on the play and is expected to be out at least a couple of weeks, pending x-rays.

Arizona bounced right back and drove 73 yards on 15 plays capped off by a touchdown pass from Jenkins to Brad Brennan to put the Wildcats back on top 14-13.

Arizona finished the first-half scoring, after recovering a Stanford fumble, on an 18-yard strike from Jenkins to Northcutt make the halftime score 21-13.

Stanford scored on its first drive of the second half, a 17-yard Hutchinson pass to DeRonnie Pitts, and trailed by two after a failed two-point conversion.

Regaining the momentum, the Wildcats scoring on the following possession as Jenkins, throwing off his back foot, found an outstretched Northcutt in the back of the end zone to put the Wildcats up 28-19.

Stanford could muster nothing more than a 26-yard field goal from Kevin Miller, sandwiched around two fumbles by Cardinal wideout Damon Dunn. The second fumble squashed a late Cardinal rally and sealed the victory for Arizona.

A side note to last night's victory is the emergence of freshman punter Chris Palic, a walk-on from California who replaced the injured Springston.

Palic's first punt, a 55-yarder from the back of the endzone, brought some of the loudest cheers of the evening and encouraged the crowd to chant his name for the remainder of the evening.

"This is a great opportunity for me and it's something I've worked for four years now," Palic said.

"I gave him the game ball in lieu of a scholarship," Tomey said in his Sunday press conference. "Maybe he can sell it (the game ball) and get a meal or something."