By Arlie Rahn
Arizona Daily Wildcat October 13, 1997

Jenkins 'hits home run' in Stanford upset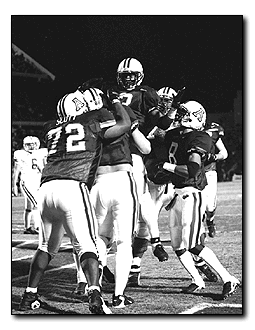 Charles C. Labenz
Arizona Daily Wildcat

UA senior wide receiver Rodney Williams (3) gets a celebratory lifting by his teammates after a nine-yard touchdown reception in the first quarter of Saturday night's Stanford game. The Wildcat defense forced eight fumbles, recovering five of the them.


Two weeks ago, redshirt freshman Ortege Jenkins was handed the reigns to Arizona's offense following key injuries to the team's top two quarterbacks. But after seven touchdown passes leading to back-to-back victories, Jenkins has emerged as the heart and soul of a young Wildcat offense.

"The quarterback spot is all about winning, and right now Ortege is a winner," UA head coach Dick Tomey said.

"For a guy that has only practiced for three weeks at the quarterback spot, Ortege has exceeded all expectations."

Jenkins' four-touchdown performance in Arizona's 28-22 win against No. 16 Stanford Saturday night has assured him of the starting spot against Washington this weekend.

"It has to be (Jenkins)," said Tomey regarding the brewing controversy between Jenkins and sophomore Keith Smith. "That doesn't mean that Keith's a bad quarterback, but Ortege hit a home run tonight. We have to give him another at bat to see if he can do it again."

In his first start against a ranked opponent, Jenkins understandably came out with some butterflies knowing that falling behind 21-0 like last weekend against San Diego State would be extremely difficult to overcome.

"I was more nervous tonight than I have ever been before," said Jenkins, who finished 18 of 34 for 167 yards and one late interception. "I wanted to go out there and strike first to get the crowd going behind us."

Jenkins' wish was granted when he connected on a nine-yard slant with junior Rodney Williams to put Arizona ahead 7-0 with 3:25 remaining in the first quarter.

"When O.J. scored first for us, it really gave us some confidence as a defense, " UA senior defensive end Mike Szlauko said. "He really stepped up tonight and became a great leader."

And Jenkins was only warming up.

After a special teams mistake allowed Stanford to grab the lead 13-7, Jenkins orchestrated a 15-play, 73 yard drive to regain that confidence.

In that drive, Jenkins had two important runs that kept it going. The 6-foot-2, 210 pound Jenkins lunged to convert on a fourth-and-one quarterback sneak, and scrambled for 10 yards on a key third-and-nine.

"(Jenkins) hurt us. I knew that he was good coming in. I did some research and found out that he has basketball experience, and has great athleticism," Stanford coach Tyrone Williangham said. "He has a chance to be a great quarterback."

Jenkins' growth as a quarterback reached its height when he read a cornerback blitz and found Dennis Northcutt on an 18-yard touchdown pass in the third quarter.

"They had been bringing the (cornerback) all night and (Northcutt) was on a hitch-and-go route," Jenkins said. "I just threw it hard enough to get it over the defender and my receiver made a great grab."

While Jenkins beat a good Stanford defense on Saturday, he faces a stingier unit when the 10th-ranked Huskies come to Tucson this weekend.

"There were times tonight when I felt nobody could touch me," Jenkins said. "It feels good to be able to contribute, but I've got my work cut out for next weekend."