By Tressa Girodo
Arizona Daily Wildcat October 13, 1997

Wildcats can't run with Montana; outdone for second straight time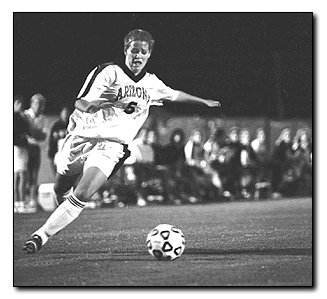 Ryan A. Mihalyi
Arizona Daily Wildcat

UA sophomore midfielder Sara Field prepares to center the ball during Friday night's game against Montana. The Wildcats lost 2-0 against a physical Grizzly team.


Living up to their name, the Montana Grizzlies tore in and out of Tucson before the Wildcats could attack back.

With speed as its primary weapon, Montana sent the Wildcats into a tailspin, handing them 2-0 setback. The Grizzlies maintained a tough, physical style against the Wildcats all night.

Arizona knew that containing Montana's speed would be a challenge, but was unable to step up and meet it, as the Wildcats seemed to be a step behind the entire game.

With four minutes left in the first half sophomore defender Misty Hall launched a shot from 25 yards out over the entire defense, giving Montana a 1-0 lead heading into the half.

"We just couldn't get to her fast enough to pressure her on the ball," senior defender Melissa Kessler said. "She was quicker than our defense and she slotted the ball into the back of the net."

In the second half Montana continued to use their strength and speed as the Wildcats started to press, sending several balls out of reach or out of play.

"They're a well-coached team, very disciplined, and they have good speed overall, which is something we had to contend with this weekend," head coach Lisa Fraser said. "They are scoring lots of goals this year, even in their losses."

Arizona could not keep up with Montana's leading scorer Karen Hardy.

In the final two minutes of the game, Hardy beat two defenders netting her ninth goal of the season, putting the final touches on the 2-0 win.

"They just capitalized on their chances tonight," Kessler said. "That is something we need to do in order to score and win games."

The Wildcat offense could not penetrate the Grizzly backfield when they had the chance.

"They are very powerful in the back," Fraser said. "The few shots we did get off were not well placed."

The loss drops the Wildcats to 6-5-1 overall and 0-1-0 in Pacific 10 Conference play.

"This was a huge loss for us," Fraser said. "A win behind us would have given us great momentum heading into the Pac-10."