By Joel Flom
Arizona Daily Wildcat October 13, 1997

Potent Cardinal running game sputters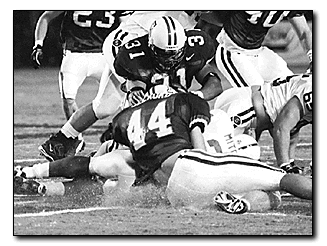 Charles C. Labenz
Arizona Daily Wildcat

Stanford tailback Mike Mitchell (32) is mauled by UA defensive end Mike Szlauko (44) and linebacker DaShon Polk (31). Mitchell and running back partner Anthony Bookman, who had averaged over 200 yards in their last three games, combined for 33 yards on 18 carries.


Stanford's backfield duo of Anthony Bookman and Mike Mitchell were a big part of the Cardinal's early success.

In the past three games, they had combined for 222, 259, and 277 yards. However, thanks to a relentless Arizona defense led by Mike Szlauko and Marcus Bell, the running back combination only managed 33 yards on 18 carries.

"We just didn't play well," a dejected Mitchell said. "I didn't play well."

Szlauko spent most of Saturday night wrecking havoc in Stanford's backfield, recording six tackles for losses, including three sacks.

"Mike made a difference," UA head coach Dick Tomey said. "Certainly, he made a huge impact."

In 32 rushing attempts, Stanford had 67 yards gained, but were tackled for 56 yards loss, leading to just 11 net yards on the ground.

"They did their jobs," Mitchell said. "And we didn't do ours."

Bell also made sure no one got far, leading the way for the Arizona defense with 11 tackles, nine of which were unassisted. He had two tackles for a loss.

"Maybe consistency wise, if you take the whole season, he may have played the best on defense," Tomey said. "He has been great."

Bookman and Mitchell never got in sync the entire game, at times having to concentrate more on holding onto the ball than running with it. Stanford fumbled the ball eight times, five of which were lost. Mitchell lost three of those fumbles. Explanations were nowhere to be found.

"Turnovers have been uncharacteristic," Stanford head coach Tyrone Willingham said. "I would love to sit here and tell you what contributed to (the fumbles), but I can't."

The only highlight for the night for Mitchell came in the second quarter, when he saved what appeared to be another busted play for Stanford. On third down, Cardinal quarterback Chad Hutchinson fumbled the ball and Mitchell, coming in from the backfield, was able to scoop the ball from the ground and rush eight yards for the first down.

"I can't speak for Bookman," Mitchell said. "But, I let the team down. We just self-destructed."