By Craig Degel
Arizona Daily Wildcat October 17, 1997

Champs bring Madness to McKale Center event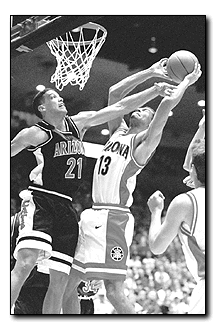 Arizona Daily Wildcat

Arizona center Donnell Harris gets a forearm from forward Bennett Davison in last year's Red-Blue Scrimmage. The defending NCAA Champion Wildcats begin their 1997-98 season tonight at the school's inagural Midnight Madness celebration. Doors to the ceremony open at 9:30 at McKale Center.


After midnight, the Wildcats will be letting it all hang out.

The defending champion Arizona men's basketball team officially begins practice tonight with the university's first-ever Midnight Madness at McKale Center.

"I'm proud to be part of another historic occasion," said Arizona forward Eugene Edgerson who will hit the floor at 12:01 a.m. with his teammates. "First it was the championship, now it's the school's first Midnight Madness."

Arizona head coach Lute Olson has always been wary of scheduling a midnight practice on a school night, but given the popularity of the traditional event for many schools, it just wouldn't be right without it.

A slew of events are on tap for the fans in attendance tonight. Admission is free and those who attend the UA-Oregon State volleyball game can keep their seats for the basketball festivities.

The UA softball, baseball, golf and tennis teams are taking part in the pre-practice hoopla. Each team is using its instrument of choice to scatter balls into the seats. Sure-handed fans take home the prizes printed on each ball.

A mascot game will take place prior to practice and the university plans to present an NCAA Tournament highlight film.

"There's going to be so much excitement," UA guard Josh Pastner said. "You could practice anytime and the guys would be ready."

Edgerson tends to disagree.

"Believe it or not, we're always up until two or three in the morning," he said. "I think Josh is the only one who goes to bed at 10."

One person who won't be taking part in the UA festivities is ESPN college basketball analyst Dick Vitale.

Vitale will be at Duke's Cameron Indoor Stadium tonight - Vitale picked Duke No. 1 in his preseason top 40. That, however, does not bother Edgerson, who plans on creating a little madness of his own tomorrow morning.

"Dick Vitale wasn't with us during the tournament so it doesn't matter that he won't be there with us," Edgerson said. "Dick's good person but we're going to do our thing."

Fittingly, the Wildcats will be introduced to the tune of the Chicago Bulls' intro music with the lights dimmed. After a brief warm-up, they plan on delighting the crowd with a dunk contest.

"I'm not sure who will win it," Pastner said in diplomatic fashion. "There are rumors that Quynn Tebbs may get to the finals."

A three-point shooting contest comes next before an inter-squad scrimmage.

At the end of practice, the team will circle the floor of McKale and interact with the crowd for about 10 minutes before they are scheduled to leave the arena around 1 a.m.
Midnight Madness schedule of events
8 p.m. UA-Oregon State volleyball game. Fans who watch the Wildcat volleyball match can keep their seats for the madness.
9:30 Gates open for free admission to the public.
11:10 First half of a mascot game featuring Wilbur, Wilma and other local mascots.
11:16 Members of the UA softball, baseball, golf and tennis teams will hit prizes into the stands.
11:22 Second half of mascot game.
11:30 Paper wad shootout. Contestants who qualify on KNST (AM 790) will shoot paper wads into trash cans.
11:35 Fan three-point shootout. Fans can register to win a spot on KNST's nightly sports show "Sports Tonight."
11:48 Lights dim and the 1997 NCAA highlight film begins.
Midnight About 14,489 people will go crazy as the 1997 National Champions are introduced.
12:10 a.m Team begins warm-ups.
12:15 Full court lay-ups and dunks.
12:20 Team dunk contest.
12:30 Scrimmage.
12:40 Players three-point shooting contest.
12:50 Team huddle will break into the team circling the McKale Center floor to interact with the fans. (Security stops having fun.)
1 a.m. Team leaves floor.