By L. Anne Newell
Arizona Daily Wildcat August 28, 1997

Pacheco refuses to resign from ASARCO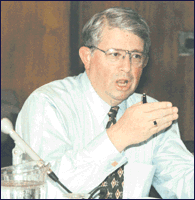 Arizona Daily Wildcat

Manuel Pacheco


Former UA President Manuel Pacheco angered environmentalists earlier this month by refusing to resign from his board position with a mining company that has been fined for numerous environmental violations in Arizona and Missouri.

New York based ASARCO is a worldwide metal producer that operates two lead mines and a smelting operation in Missouri, and silver and copper mines in Arizona.

Pacheco attended his first board meeting July 30.

The following week, the Sierra Club asked Pacheco to step down from his $2,100 a month position on the 12-member board, said Rich Genser, chairman of the Southern Arizona chapter of the Sierra Club.

However, other groups, like Save the Scenic Santa Ritas, believe Pacheco can be an interior supporter of environmental regulation, said Randy Serraglio, campaign coordinator for the group.

Pacheco has also taken this stand on this issue.

Dave Lendt, director of university relations for the University of Missouri, where Pacheco is president, said Pacheco believes it is more constructive to work for change from within the company than from the outside.

"Environmental groups should consider him an ally," Lendt said.

ASARCO's environmental record includes last year's $1.7 million penalty for polluting Missouri's Black River, according to Genser, and current litigation against Pima County, which calls for the county to lower its air quality regulations. Pima County is stricter with its air quality regulations than the federal government and ASARCO's directors say they should only have to comply with the federal regulations, Serraglio said.

In addition to these violations, Bill Moeller, chair of the education committee for Save the Scenic Santa Ritas and a member of its board of directors, said ASARCO is the worst polluter in Pima County and the state of Arizona. Moeller based his statements on dust polls done in the Green Valley Mines and the EPA's Toxic Release Inventory of the Hayden smelter.

"Everywhere ASARCO goes, they run into trouble. They have a very messy environmental record," Serraglio said. "Yet we feel there's no reason to attack Mr. Pacheco yet. We're hoping to inspire his civic responsibility."

Genser, reiterating the stance of Save the Scenic Santa Ritas, said, "We have no negative feelings toward Pacheco."

While he may become a voice for reform, he has made no public announcement to this effect, he said.

"I would like to see all the members of the board resign, quite honestly," he said, "But I don't foresee that happening. It goes against their financial interests."

"We just hope Pacheco has a place in his heart for Southern Arizona and will work with the board for these interests, not the interests of the stockholders," he said.

ASARCO has issued a statement that they are honored to have Pacheco as a member of the board of directors.

"We believe he will provide a valuable perspective from his years in academia on matters of importance to the company, including environmental issues," said Jerry Cooper, director of corporate communications.

"We are surprised the Sierra Club took this position. They've been very critical," Cooper said.

In addition, ASARCO now states it is in compliance with Missouri guidelines on pollution.

Darrell Himmesoete, general manager of the Missouri Lead Division of ASARCO, told the St. Louis Post-Dispatch on Aug. 23 that ASARCO has achieved compliance after spending $22.5 million on improvements, which "many thought were impossible to achieve."

"We think ASARCO should be applauded ƒ for the commitment we have made to improving the environment and to preserving jobs in Missouri," Himmesoete said.

Lendt said, "He [Pacheco] is very proud of his environmental record and resents being treated as an anti-environmentalist."

"No one is prepared to call ASARCO's record pristine, but their standards certainly are improving," he said.