By Mary Fan
Arizona Daily Wildcat August 28, 1997

Media arts students discontent over departments policy changes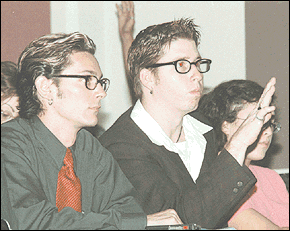 Adam F. Jarrold
Arizona Daily Wildcat

Shane Clark, left, and Kevin Robbins, both media arts seniors, listen yesterday as departmental personnel field questions on the latest curriculum changes announced Monday. Clark, Robbins and another media arts senior Chris Bolus (not pictured) represent students concerned with the changes.


Mary Fan

Disgruntled seniors in the media arts program voiced their anger over policy changes regarding their senior film project at a program meeting yesterday.

These changes limited the number of films that could be produced in Media 498A to four to six films. This change means that students would need to collaborate to produce their senior film and vie to have their film produced.

The changes, announced Monday, were another in a succession of modifications curtailing the number of senior films that will be produced.

Senior Sean Olson said, "The program changes so often that we don't know what to expect."

Seniors Kevin Robbins, Shane Clark and Chris Bolus argued that when they entered the media arts program they received a document stating that each student was required to write, produce, direct and shoot their own senior film.

They claim that this document is a contract between the program and the students, and said that since they were given the document on entrance to the program they should be exempted from the program changes.

Mary Beth Haralovich, director of the media arts program, said the document was never meant to be circulated.

"It was created in an optimistic and idealistic moment. It's regrettable that it was distributed. The document is not realistic," she said.

She said that the changes were necessitated by university-mandated downsizing. In the process curriculum changes also occurred.

Senior Petina Powers said the changes introduce an unwelcome atmosphere of competition.

"We came in together, worked together and all of a sudden we're competing against each other," she said.

They said that the changes limit creative control of the senior project. Clark said he had originally expected to have complete creative control over his project, a fact which had attracted him to the media arts program initially.

"It will be unlikely that I will ever have complete creative control over a project again.

That's one of the reasons why I entered the program," he said.

Robbins, Clark and Bolus also want the power to choose their own crews rather than working in assigned teams.

Robbins said, "I am against being told with who and on what project I have to collaborate with when I am required to finance the project."

The students also contend that not having a senior film entirely their own will hurt their chances of gaining entrance to prominent film schools and programs.

"It is extremely competitive to get into one of the top film schools and even more so without a film of your own," Bolus said.

Giulio Scalinger, an adjunct professor in media Arts, said that in his experience he has found to move ahead in production, a student needs a film which can be claimed as entirely their own. This shows that the student is capable of independent film making, which is critical when soliciting work.

"Producing your own films allows you to take the next step whether it be going to graduate school, showing the film at a film festival or approaching potential investors," he said.

Scalinger is also director of the Arizona Media Arts Center.

After hearing student concerns, Haralovich and Beverly Seckinger, associate professor of productions, announced that some of the strictures announced Monday would be relaxed.

"We're loosening up the process," Seckinger said.

The media arts faculty will now entertain story pitches from individuals and teams.

Jacqueline Mok, assistant Dean of the College of Fine Arts, was on hand to hear the issues discussed.

"I think it was a very open, frank exchange and recognition of student concerns and validation of academic quality," she said.

Still, hearing about the changes and the seniors' discontent has some program juniors worried.

Gilbert Rosales, a program junior at the meeting said, "As a junior it's a little disconcerting to see how unhappy the seniors are with the program and I'm wondering if I have to worry about this too next year."