By Tory Hernandez
Arizona Daily Wildcat August 28, 1997

CatFest '97 parties with Poe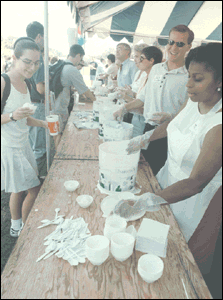 Ryan A. Mihalyi
Arizona Daily Wildcat

"It's great and fun," said junior Ari Hopkins, left, about yesterday's ice cream social as she grabs a cup of free ice cream. This year's "Wildcat Welcome" was especially appreciated by the overheated students on the UA Mall.


Wrapping up Wildcat Welcome Week, the first ever CatFest 1997 kicks off the weekend on the UA Mall tomorrow evening.

A concert by alternative artist Poe is the highlight of a night filled with a fashion show, speakers presented by KAMP student radio, a Mexico vacation raffle, club information and food.

Events begin at 6 p.m. and continue through midnight with a free showing of "Singles" at Gallagher Theatre.

"The main point of this event is to promote unity and school spirit," CatFest director Ariane Mele said.

This unity is coming at a cost of $25,000.

Associated Students contributed $13,000 and the remaining $12,000 came from various sponsors, including campus clubs and organizations.

Concert coordinator Ryan Goebel, director of Rising Star Entertainment, said the artist Poe was booked at the end of July for the UA mall concert. The opening act Greyhound Soul will perform at 8 p.m. and Poe will play a full-length concert at 9 p.m.

A 20-minute fashion show will exhibit the Ultra Vivid clothing line from 1992 University of Arizona alumni Paula Nedder, owner of Ultra Vivid clothing store. Nedder said six models will present a variety of street wear and styles from New York and Los Angeles.

"This will be a great opportunity for people to get familiar with my new store," she said.

Nedder said there will be a drawing for a $50 gift certificate to Ultra Vivid.

Discount Travel Outlet is sponsoring a raffle for two round-trip plane tickets to Cancun, Mexico. Discount Travel Outlet manager Andrea Woosley said the specific dates of travel will be left up to the winner. The first raffle ticket is free at the agency's table in the sponsorship tent, and each additional ticket will cost $1, Woosley said.

KAMP student radio has scheduled two DJs to play music and run giveaways throughout the evening.

"Electra records provided us with free CDs and posters of Poe to give out through the night," said Mike Board, a KAMP DJ.

In addition, the Athletics Association will be selling tickets for the upcoming football season.

Clubs and organizations also will be on the Mall to recruit and advertise, Mele said.

"This should be a nice way for clubs and organizations to get new members in a more publicized event," she said.

Plans for the event began last spring, Mele said, and it snowballed from there.

"This grew from a small event with a local band to a large event with sponsors and a major act," she said.

This is the first year for the CatFest program, and Mele said she would like to make it an annual event and already has a few plans for next year.

"I'd like to get more sponsorships and attract even bigger bands," she said.

Mele said she felt it was important for students to feel welcome on the UA campus, and this event promotes the idea.

"We want the new students to feel like they are a part of this campus," Mele said.