By Alicia A. Caldwell
Arizona Daily Wildcat August 28, 1997

Free web page helps students find textbooks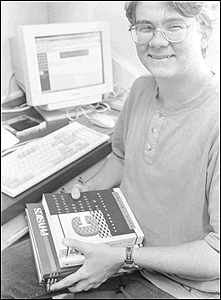 Brian D. Rothschild
Arizona Daily Wildcat

Chemical engineering sophomore Eric Speir sits in front of his newly created web page entitled "Bookend." Through this web site, students are able to buy and sell used textbooks to avoid long lines and low resell prices.


For students in search of an alternative to high textbook prices and the long lines that go with them, one student has a possible solution.

Chemical engineering sophomore, Eric Speir, has recently created a homepage on the Internet that would allow students to advertise used books for sale, and others to find books required for their classes.

"It's a free web page for students to sell used books to avoid long lines and low buy back prices," Speir said.

Speir began developing the web site after experiencing low buy back prices and hearing complaints from other students regarding textbook prices at the end of the spring semester.

"It seemed like a lot of students were complaining about it, and I gave them a way to find used books," Speir said.

At the end of last semester Speir began the web page on his home computer and continued to the development of the "Bookend" web site throughout the summer.

"It was kind of a hobby over the summer," Speir said.

Speir's page consists of three sections, add a book, find a book and delete a book. The add a book section is equipped with several different queries to allow students to easily find the book they need.

The page also provides a link to the required text list from the UA Associated Students Bookstore to ensure that a book a student chooses is actually required for their class, Speir said.

Speir also included within the delete a book section a security measure. In order to delete a book a password must be entered, which would allow the deletion from the database to take place. Students also have the option of omitting their phone number and simply supplying an e-mail address for contact purposes, Speir said.

Speir developed the site using a server that would support an interactive database. In doing so, he has since incurred a $25 a month fee for use of the server and is hoping to recoup that money through the sale of advertising space on the site.

"I am not concerned about making money, I'm hoping that it will pay for itself," Speir said. "It's my one act of altruism."

While the future popularity of the site is not yet known, Speir said in the last few weeks there have been more than 1,000 hits to the site.

While Speir is confident the site will be popular and beneficial to students, opinions varied.

"I would use it (Bookend) out of convenience," said Brian Rayburn, music education freshman.

"It sounds nice, but it would probably be too big of a hassle," said Jodi Evan, criminal justice junior.

Frank Farias, Associated Students Bookstore director, said he has seen services such as the Bookend created nearly every year and does not feel as though it is something that the majority of students use.

"I think it's a great service, on the surface it appears to be very good," Farias said.

Speir also said while he does not mind spending the time to work on the page he will have to close it if there is not enough support from advertisers.

Speir said he has received a lot of support for this web site, but he has also run into a few minor problems with University of Arizona officials.

Speir said university officials contacted him regarding issues of affiliation with the bookstore and the university.

Mike Low, licensing administrator, said the only concern from the university was the implication that Speir and his web page were directly affiliated with the university.

"We asked him (Speir) to clarify and make a disclaimer. We were certainly pleased with the way he responded," Low said.

Farias said while he thinks it's a great service, there are drawbacks to using it. Drawbacks mentioned by Farias included the problem of returns and the possibility of purchasing an incorrect edition of a book.

"I think students need to have that option," Farias said.

To check out the web site, log onto: http://www.thebookend.com.