By Tom Collins
Arizona Daily Wildcat August 28, 1997

"The Waiting Room" wastes no time delivering solid drama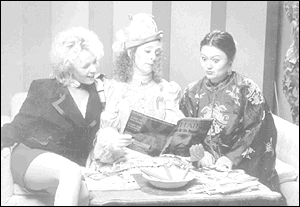 Arizona Daily Wildcat

Photo: Courtesy of Borderlands Theater Caroline Reed, Suzi List and Joy Lynn Pak star in "The Waiting Room" at PCC's Borderlands Theater.


There are times that try the hearts and souls of women and men.

These times are the subject of Lisa Loomer's play "The Waiting Room," being performed now by the Pima Community College's theater in residency, Borderlands Theater.

The play, directed by Chris Wilken, tells the story of three women from three different cultures and time periods in the same hospital dealing with their health.

The play centers on the life of Wanda, played by Caroline Reed, a 20th century woman. A woman who has had too much cosmetic surgery, who smokes too many cigarettes, who is alone. Alone and facing breast cancer.

Reed's performance is not subtle, which is good, because the character is not either. Reed communicates Wanda's self consciousness, despite her tough and brusque exterior.

Whether making her doctor blush or knocking back Jack Daniel's in the tavern outside the hospital, Wanda is sad.

Then she's diagnosed with breast cancer.

Reed makes Wanda's self-examination and reflection upon diagnosis clumsy and believable.

It is this trial that is centerpiece of the play.

Loomer parallels Wanda's plight with those of the two other women.

Problems from different ages, but problems caused by societies that value a woman's looks over a woman's health. The kind of societies that force corsets and bound feet upon women. And breast augmentation.

Forgiveness From Heaven, a woman from pre-communist China, suffers the consequences of bound feet. Her feet are falling off.

Joy Lynn Pak's performance brings out the innocence and sense of duty the character feels and also the opium addled desperation of a world in which the character is but one of several wives. Pak buzzes in scenes of sad comic relief.

Victoria, played by Suzi List is, a Victorian woman. Her husband, a 19th century English doctor, has diagnosed her with hysteria, and a Yellow Wallpaper-like bed rest having failed, wants her reproductive organs removed. Played broadly by List, this woman attempts to reconcile her love of learning and sense of propriety with the needs of her family.

With these three women is the healthy nurse, Brenda, played by Nicole Johnson. The character, from Jamaica, carries with her both the idea of holistic medicine and the hope that the sick can in fact, be cured. Johnson's performance sneaks up on the audience, coming to a head in monologues both in the first and second act performed in. She is totally convincing. Johnson really glues the play together.

The subplot of the play, a moralizing statistic-dropping argument against drug companies and hospitals, seems almost misplaced in this tale of three sisters in time.

Strawmen like a pharmaceutical executive who serves on the hospital's board of directors and a Food and Drug Administration official are a sleazy, anti-patient womanizer and a waffling goofball, respectively. The subplot really zeroes in on men, pitting the woman's doctor, Douglas, against the FDA and the drug executive, after his prostate cancer diagnosis. Douglas, as played by Tom Turner, has a lot of Dr. McCoy from Star Trek in him. Impotency and frustration.

Despite solid performances by the actors, Loomer relies on citing cancer cure buzzwords and undercutting the strength of the spiritual that Johnson's character embodies.

Presented in the PCC West Campus Black Box theater, the play is intimate in a way that could be lost on bigger stage. The performances are tangible and engaging in the venue.

The set design is minimal but effective, relying on hospital screens to establish walls and delineate between rooms. The hospital space looks, in both set and light design, antiseptic. The actors humanize the stage.

"The Waiting Room" plays at PCC, 2202 W. Anklam Road, through Sept. 7. Call 882-7406 for more information.