By Tom Collins
Arizona Daily Wildcat August 28, 1997

Fat as they wanna be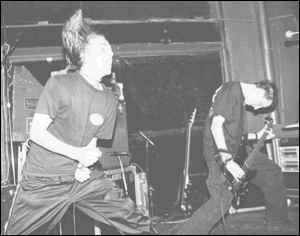 Dan Hoffman
Arizona Daily Wildcat

Members of the band Fat, Adrian Rowntree (left) and Paul Andrews (right), rock out on stage at Club Congress, Friday, August 22. The British band is touring the United States in support of its self titled album.


Five guys in a van. That's rock 'n' roll.

The British rock band Fat has put 3,000 miles on theirs in the last few months, trolling the American countryside in support of their self-titled album.

But this is the fun part of the music life, according to the band.

"It's easy compared to getting signed," said bassist Paul Andrews, "Getting signed is the difficult bit. We've all spent years playing horrible little clubs in London, no one coming to see you, just soul destroying stuff."

Yet the band has persevered for four years.

Last year, three of the members, Andrews, lead singer Adrian Rowntree and guitarist Gareth Prosser were stuck in dead-end jobs in England. Drummer Mike Boyko, who joined the band five months ago, was a carpenter.

But even today, there is hard work to be done.

"It's not like the glamorous things that certainly my friends imagined it would be. They're like 'Oh, you're driving. In a van,'" Rowntree said. "They don't realize how infrequently you get to do laundry."

Despite their major label contract, the band is very do it yourself- loading and unloading their equipment and merchandise, for example.

Andrews said, however, that being away from home and family for months on end can be a stress.

"Just as you think you're going to get a break in a month's time someone phones up and says 'No, there's another three weeks added," Andrews said.

The grind of promoting themselves includes radio and print interviews and a recent taping for an MTV program.

At this point, Andrews said, the band's management has focused on towns with strong radio stations to make sure the word gets out, until the band can tour nationally.

Even with all the driving, the band still hasn't heard its songs played on the radio.

"We have so many CDs in the van that we just listen to it, all of the sudden before we pull into the hotel, hey, maybe we'll put the radio on and see if we're on," Boyko said.

Playing rock in the '90s can still be tough on the ego, said Rowntree, who at 21 is by five years the youngest member of the group.

"I think a lot of people are like 'Oh, man your a little bit like this band a little bit like that band and something I can't quite put my finger on,' I'm always like 'Well you don't suppose that might just be us,' " Rowntree said.

Andrews said people constantly say Fat reminds them of Oasis or Bush.

"We don't sound anything like those bands," he said.

The band, which played a set at Tucson's Club Congress last Friday, does sound like a lot of other bands. A little bit of Rage Against the Machine and a little bit of 311. Their songs vary from rap-rock to punk rock to power pop, all with a smile. Prosser's goofy heavy metal body language and Andrews jokes jibe well with Rowntree's call to the audience to dance.

Always personable, from the stage to schmoozing with radio personalities outside the club.

They like this rock 'n' roll thing.

"Part of our ethic let's be true to ourselves, let's do what we set out to, but let's not also be ashamed that we think we're really good at what we do," Rowntree said.

Indeed.