By Craig Degel
Arizona Daily Wildcat October 23, 1997

Incoming class one of nation's best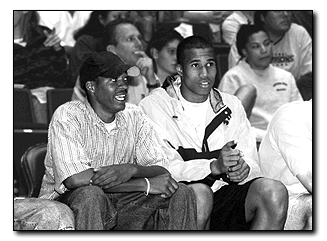 Adam F. Jarrold
Arizona Daily Wildcat

UA recruits Ruben Douglas (left) and Richard Jefferson take in Midnight Madness last Friday in McKale Center. The two players have committed to UA and are part of one of the nation's best classes


A recruiting analyst from the Basketball Times said yesterday that the Arizona men's basketball team has every reason to be proud of its 1998-99 recruiting class.

"That's probably the best class in the country," associate editor Dan Wetzel said. "Granted the signing period is a month away and things could change, but this is clearly the type of class you would like to get post-national championship."

The new group is five strong.

It includes guards Traves Wilson of Moline, Ill. and Ruben Douglas of Burbank, Calif. and forwards Richard Jefferson of Phoenix, Luke Walton of San Diego, Calif. and Michael Wright of Chicago. All have given verbal commitments to Arizona and while verbal commitments are non-binding, all are expected to sign on the first day of the fall signing period on Nov. 12. Arizona coaches are forbidden from commenting on recruits until that time.

"All summer there wasn't a kid, particularly in the west, that didn't mention Arizona as one of his favorites," Wetzel said.

Van Coleman of Future Stars magazine said that all five of Arizona's commitments are in his top 100.

Wilson is a 6-foot-3 defensive specialists who averaged over 17 points a game last year while Douglas is slightly taller at 6-5 and averaged better than 20. Jefferson stands 6-7, while both Walton and Wright are 6-8. That means Arizona's basketball tradition - tall, lean players who can run opponents off the floor - will hold for the next few years.

Wetzel was particularly impressed with the addition of Walton, who is the son of UCLA legend Bill Walton.

"The name's nice, but I think Lute Olson and his staff fell in love with Luke Walton over the summer," Wetzel said. "Luke does a lot of things to win you basketball games and he is an excellent student. Even if he's not in the top 10 he's going to be a major contributor."

Surprisingly, Florida may give Arizona a run for the top spot in the recruiting lists. They have four quality players all from the state and are expecting commitments from two others.

"It's a great class but I don't know if they have the star power of Arizona's," Wetzel said.

"DePaul may have a good year and so should Colorado and N.C. State. And I think with North Carolina you're looking at top quality even though they only have two or three."

Arizona's 1996-97 recruiting class was rated among the top five in the nation as well. That class included Eugene Edgerson, Bennett Davison and Mike Bibby who became the first freshman point guard to lead his team to a national championship.

Arizona's 1991 class was rated No. 1 by various publications. That class included Reggie Geary, Cory Williams, Joe McLean and Joseph Blair and was an integral part of Arizona's 1994 Final Four appearance.