By Stacy Grobe
Arizona Daily Wildcat October 23, 1997

Fraternity Fight Night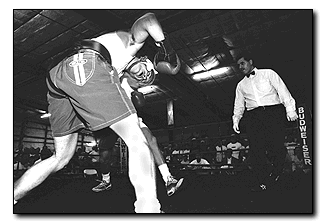 Arizona Daily Wildcat

Arizona Daily Wildcat File Photo Participants in last year's Fraternity Fight Night duke it out for charity. Tomorrow night, 27 UA fighters will go at each other and boxers from ASU at the Tucson Amigos Indoor Soccer Center.


A legal fight against the Sun Devils, what could be more fun?

Tomorrow night marks the 2nd Fraternity Fight Night, where raging Wildcats get the chance to take out their aggressions against arch-rival ASU.

Fight Night gives fraternity members the chance to put on some gloves, get into the ring and settle the age-old question of which school is tougher.

"These guys are fighting to fulfill their dreams," said Lawrence Williams, the event coordinator. "Every guy has wanted to put on the gloves when he was younger. This gives them the opportunity to get in the ring with head gear and 16-ounce gloves and try boxing."

The event is at the Tucson Amigos Indoor Soccer Center located at 4th Avenue and 36th Street. Tickets are $10 for general admission and $15 for ringside seating and can be purchased at any Ticketmaster outlet or at the door. Williams said the he "guarantees a good time," and that he will refund the admission fee to anyone that is unsatisfied.

Doors open at 6 p.m. and a percent of the proceeds go to the Optimist Club, a nationwide organization dedicated towards helping the youth of America.

"Tomorrow's event is expected to be the biggest U.S. Amateur boxing show in the state of Arizona," Williams said.

This year's event has 27 UA fraternity members from seven different houses and all boxers are registered with USA Boxing.

Fighters will be matched up based on weight - ranging from 130 pounds to 270. Some Wildcats will face winners from the same event held at ASU earlier this month.

Williams said that fighting ASU "is the biggest rivalry around. It sells and it's fun."

The first fight of the night matches the two biggest fighters from each school.

UA Kappa Sigma Steven Buca, a 6-foot-3, 270-pound sophomore, will face ASU State Press reporter, 6-3, 245-pound Scott Lewis, who has no fraternity affiliation.

"I've never boxed before and I may lack some boxing skill, but I pity whoever gets in the ring with me one way or another," Buca said. "He's got an inch on me, but I've got 30 pounds."

Each fight consists of three, one-minute rounds and is governed by USA Boxing amateur rules.

Steven Pasquesi, a UA finance sophomore representing Zeta Beta Tau, attended the event last year, but will be in the ring tomorrow night.

"My whole life I've wanted to fight, to do something like this," he said. "Last year I was a freshman and afraid, but this year is different.

"I'm ready. I like the hype, the feeling of the crowd behind you."

Each represented fraternity is expected to sell a certain number of tickets to support their fighters.

Buca's fraternity has already sold over 50 tickets.

"It's a big thing," he said. "Everyone I've talked to is going."

Finance freshman Zubiar Patel, a UA representative of Sigma Phi Epsilon, sums up the action, "Rocky IV is my favorite movie and I always thought it would be fun to knock someone out."

Where: Tucson Amigos Indoor Soccer Center (located at 4th Avenue and 36th Street)

When: Tomorrow night, doors open at 6 and the first fight is at 7

Cost: $10 for general admission, $15 ringside, tickets can be purchased through Ticketmaster or at the door.

What: 27 UA fraternity members representing seven houses on campus matched up against fighters from Arizona State.