By Joel Flom
Arizona Daily Wildcat October 23, 1997

High expectations keeps out-spoken Bender in game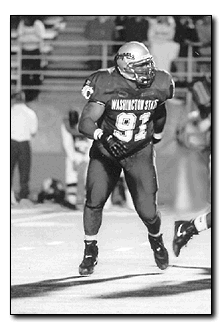 Arizona Daily Wildcat

Photo Courtesy Washington State University WSU defensive end Leon Bender searches the field for an offensive victim. The senior is friends with UA's Joe Salave'a. The two met at a California all-star football game during their senior years in high school.


He missed spring drills because of a variety of injuries.

He started the season with a broken rib.

With all things considered, Washington State coaches should have listed the defensive end Leon Bender as questionable for the season. Probable at best.

Bender wasn't having that.

It would take a lot more than a broken rib to keep him from missing a game during his final year at Pullman.

"This is my senior year," Bender said. "I had to play. I don't care if it was a broken rib or a broken leg. I was going to play."

That is exactly what he did, although the rib did not heal until sometime after the third game this season.

That's just the kind of player that the 6-foot-5, 308-pound Bender is.

"On the field, Leon Bender is all about getting to the ball," Bender said. "I am not a dirty player. I go with reckless abandon. I go 100 miles per hour. I play every play like it was my last .

"At the end of the season, I don't want to be saying 'Should've, could've, would've."

With Washington State currently 6-0 and 10th in the nation, this is exactly how he pictured his senior year to be.

"We are real pleased," Bender said. "We wanted the Class of '93 to go out with a bang."

That attitude was sparked after a disappointing 5-6 record last year.

"We felt really bad for the seniors," Bender said. "In December, we set the goals that we would go undefeated, win the Pac-10, and go to the Rose Bowl."

So far, so good.

The Cougars have been able to roll despite the fact that Bender's numbers are up not to his usual standard. Last year, he recorded six sacks and 13.5 tackles for a loss, accounting for 84 yards. Six games into this season, Bender has only two sacks and five tackles for a loss.

Statistics, however, mean nothing to this competitor from Santee, Calif.

"I do what I have to do to win," Bender said. "I will take a win over a sack any day."

One thing the Class of '93 has not been able to do in their career is defeat Arizona.

"This is a big game for us," Bender said. "A real defensive game."

UA head coach Dick Tomey knows that Bender and the rest of his defensive teammates have grown since the last time the teams went at it.

"They are a very good defensive team," Tomey said. "With Bender and (Dorian) Boose, they are the most senior-laden team that we have faced. They are experienced people, and they play like that."

Tomey is already preparing for the challenge of running the ball against Bender.

"Washington State over the years has played good defense," Tomey said. "They are a hard team to rush on."

Whatever happens after Saturday's game, one thing can be guaranteed. Bender's feelings for his opponent and friend, Joe Salave'a, will not change.

"That's my man," Bender said. "I got nothing but love in my heart for him."

Salave'a said that the two met at a California all-star football game during their senior year of high school and then saw each other again at Washington State when they were being recruited.

"We have built a good, healthy relationship over a short period of time," Salave'a said.