By Zach Thomas
Arizona Daily Wildcat October 24, 1997

Candidate offers insight on gubernatorial race, AIC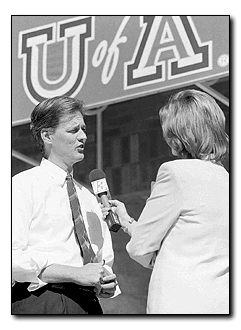 Chris Richards
Arizona Daily Wildcat

Democratic gubernatorial candidate Paul Johnson speaks to the media on the steps of the UA Associated Students Bookstore yesterday morning. Besides campaigning, Johnson was on campus to buy UA T-shirts for himself and his son, who hopes to enroll here next year.


An Arizona gubernatorial candidate yesterday urged caution in light of recent plans to move AIC to the UA main campus.

During a brief morning visit at the Memorial Student Union, former Phoenix mayor Paul Johnson said university administrators should take care not to thwart the branch campus's purpose.

"The program itself was designed to be a stand-alone one," he said. "We need to be cautious not to lose its original intent."

Located 15 miles east of Tucson, the Arizona International Campus of the UA was designed to be a public, four-year liberal arts college and slated to help handle a projected influx of college students in the 21st century.

Sporting only 106 students, administrators have planned to move the criticism-plagued school in fall 1998. AIC head Celestino Fernandez announced his resignation shortly thereafter. The Arizona Board of Regents still needs to approve the relocation and Fernandez will stay on through June.

Johnson, the sole declared Democratic contender in the 1998 race, also said he would push for uniform southern Arizona representation on the Arizona Board of Regents, which governs the state's universities.

"What's going to be key is that southern Arizona have an equal voice on the table," he said, adding incumbent Gov. Jane Hull will appoint two new regents in 1998.

"Obviously I can't dictate what she does," he said. The appointment of regents in the year 2000 will be up to the state's next governor.

Johnson stopped by the UA Associated Students Bookstore to pick up a sweatshirt for his son, who will attend school here next spring.

During the visit, Johnson also lashed out at climbing education costs and called on the state government to help impoverished students and parents.

"The cost of tuition is rising sharply and preventing kids from getting into higher education," Johnson said, adding the state government should enact tax breaks for impoverished parents and students.

"Those dollars shouldn't be taxable," he said.

He also called for more need- and merit-based scholarship programs for Arizona's youth to encourage them to go to college.

"Stay with it," he urged students.

"Getting your diploma is one of the most important things," he added. "It took me 15 years to get it; taking night school and working during the day."

The gubernatorial candidate also said he was pleased, but not surprised, by Democrat Eddie Basha's decision Tuesday not to run in 1998.

"For no less than five months, I've been saying this race will boil down to Jane Hull and Paul Johnson," Johnson said.

"It's been a tremendous couple of days," Johnson adding he's received more support from around the state since the Chandler grocery store magnate's decision.