By Chris Jackson
Arizona Daily Wildcat October 24, 1997

Icecats open season tonight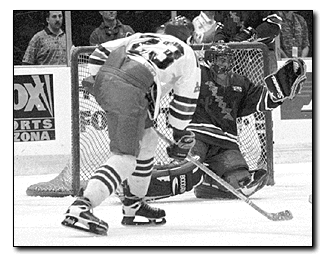 Charles C. Labenz
Arizona Daily Wildcat
UA forward Charles McCarty (23) attempts to score on goaltender Joe Peplinski during the Icecats scrimmage last month. The team begins its season against St. Louis tonight at the Tucson Convention Center.

A chill is in the Tucson air, the leaves are changing color and men on skates with big sticks are taking to the ice.
Yes, hockey season has begun.
The Arizona Icecats club hockey team opens its season tonight against St. Louis University at 7:30 at the Tucson Convention Center. The two teams play again tomorrow at the same time.
The Icecats (25-5-1 last season) are looking to get off on the right foot as they seek to better last season's 4th place finish at the national tournament.
The Billikens (11-15 last season) are starting their second year of play, the program having been brought back last season.
"They were a Division I team back in the 1970's," Icecat head coach Leo Golembiewski said. "They just started back up as a club team."
Golembiewski's comments on the Billikens were brief.
"I don't know how good they're going to be," he said. "Of course, I don't know how good we're going to be, either."
The Icecats will be starting two of their 12 freshmen on the opening line tonight.
Senior center and team captain Ben Ruston, who scored 121 points on 53 goals and 68 assists last season, leads the first line.
He will be flanked by the aforementioned freshmen, Ed Carfora and Marc Harris, with senior Chad Dyjak and sophomore Joe McCaffrey on defense.
The biggest question the team is facing, according to Ruston and Golembiewski, is figuring out the goaltending situation.
"It's the only thing that's not set right now," Golembiewski said.
Sophomore Mike Tesi, who appeared in nine games last season, and freshman Joe Peplinski are the candidates to start. A third contender, freshman Jordan Bolton, is out for 2-4 weeks after injuring his knee in the Icecats' Blue-White Scrimmage on Sept. 21.
Golembiewski said he will use this weekend's games to determine if either Tesi or Peplinski will be the starter for next weekend's games against season-rival Colorado.