By Craig Degel
Arizona Daily Wildcat October 31, 1997

Players take Red-Blue game seriously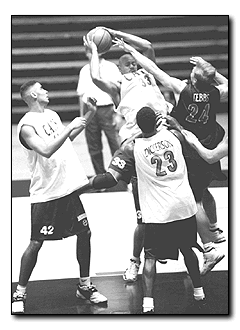 Robert Henry Becker
Arizona Daily Wildcat

Sophomore forward Eugene Edgerson (33) rips down a rebound over Quynn Tebbs (24) and Michael Dickerson (23) as A.J. Bramlett looks on yesterday at practice. Edgerson shaved his recognizable afro this week for a less maintenance-needed look.


There is one place for sure where Saturday's annual Red-Blue scrimmage counts - in the eyes of the Arizona basketball team.

It was jokingly asked if there was a Las Vegas line on the game, but Arizona head coach Lute Olson knows that his players are taking the game seriously.

"I'm sure J.T. (UA guard Jason Terry) would indicate that they (the Red team) are the heavy favorites," Olson said.

Looking at the lineups and its tough to pick a clear favorite.

Terry and Miles Simon will lead the Jim Rosborough-coached Red team. They will be joined by Justin Wessel, Bennett Davison, John Ash and possibly Donnell Harris. Harris sprained his ankle in practice earlier this week and is questionable for the game which gets under way at 7:37 p.m. in McKale Center.

The Blue team is coached by Phil Johnson and features Mike Bibby, Michael Dickerson, Eugene Edgerson, A.J. Bramlett, Josh Pastner and Jason Stewart.

Quynn Tebbs is scheduled to start for the Blue team but, like Harris, has been hobbled by an ankle sprain.

"This is a big thing for me," Terry said. "I want to win. Everybody is going to go out hard."

Simon, a senior and veteran of three Red-Blue games was a little less enthusiastic.

"I just look at it as a chance to put all the things together," he said.

It may be Simon is still be hurting from last year's game in which the Red team defeated his Blue team 103-93 on the strength of Harris' 25 points and 24 rebounds. Simon had a game-high 26 in the losing effort.

As for the losers of this year's game, some sort of punishment may be in the works but Olson doubts it.

"They hate to lose enough that you don't have to have an added punishment," Olson said.

Terry said he hopes the game helps in the continued improvement of the team which opens its regular season on Nov. 20 against Morgan State at McKale Center.

"We'll get a chance to break down the half court offense and see what we need to work on," Terry said.

The evening will kick off with a free tailgate party sponsored by KFMA (FM 92.1). Free food and a speech by Olson will highlight the event. The party starts at 6 p.m. Tickets to the Red-Blue game are $3 and are available through the McKale Ticket Office or by calling 621-CATS.