By Chris Jackson
Arizona Daily Wildcat October 31, 1997

Skieresz sprints for three-peat at Pac-10s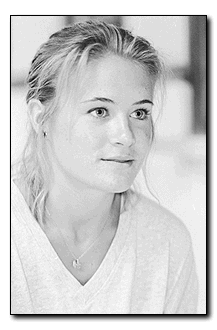 Arizona Daily Wildcat

Amy Skieresz


It's always nice to be the first to accomplish something.

UA junior runner Amy Skieresz already has a lot of firsts.

This weekend she can add another as she tries to become the first woman to win three straight Pacific 10 Conference cross country championships.

Along with the rest of the Wildcats, Skieresz will be in Palo Alto, Calif. tomorrow afternoon, going up against the rest of the conference.

Stanford, the host team, is the favorite to take home both the men's and women's titles.

"Everyone's pretty much conceded that Stanford is going to win," UA head coach Dave Murray said.

For the Wildcat women, Skieresz has a shot at breaking the course record of 16 minutes, 36 seconds that she set last year.

"In my own mind there's no one who can run with Amy at the end of the race," Murray said, though he also said he expects that there will be some who try at the beginning.

Murray expects Stanford freshman Julia Stamps, who was the national high school champion last year, to one runner who may challenge Skieresz.

"She'll try to challenge Amy right from the start," Murray said. "Whether she can keep up with Amy is another question."

Following Skieresz on the trail will be senior Virginia Camacho, who has posted a fourth place finish in each of UA's previous four races.

Behind her will be senior Tone Bratteng, sophomore Kristen Parrish, freshman Katrin Engelen, sophomore Maia Wright and freshman Erin Doherty.

"If Katrin and Kristen were at the top of their game," Murray said. "We could challenge for one of the top spots."

Engelen has still not gotten in shape after transferring to Arizona from her native Germany, and Parrish has been slowed by her fluctuating potassium level, which Murray said has finally stabilized.

Other foes of note for Skieresz to overcome will be Stanford's Sarna Renfro and Mary Cobb, No. 4-ranked Oregon's Marie Davis and Milena Glusac and No. 14 Washington's Margaret Butler. Missing from the meet due to injury is 13th-ranked UCLA's Kim Mortensen, who was runner-up to Skieresz at the Pac-10's last year.

As for the Wildcat men, they enter the meet with a No. 14 national ranking.

Led by junior Abdi Abdirahman, the men have posted two first place, one second place and one fourth place finish this season. Abdirahman won both races that the team finished first in.

"I think Abdi is capable of running in the top five," Murray said.

The rest of the men's squad consists of senior Margarito Casillas, junior Jeff McLarty, sophomore Jeremy Lyon, senior Jon Lansa and freshmen David Lopez and Tom Prindiville.

Sophomore Micheil Jones will miss the meet due to illness.

He was diagnosed with mononucleosis after the Wildcats' last meet.

"The last two meets we've run strong while he was sick," Murray said. "So I don't think we'll drop off that much."

While Stanford is also No. 1 on the men's side, they are not alone in ranking near the top.

No. 5 Oregon, No. 10 Washington State, No. 18 Washington and No. 22 UCLA all have a solid shot at upseting the Cardinal in their backyard.

UCLA's Mebrahtom Keflezighi is the defending champion and will try to top his own course record of 23:45.

Other contenders will include Stanford senior Nathan Nutter and junior twins Brad and Brent Hauser.

"It's going to be a real dog-fight for the number two through five spots," Murray said.

The Wildcats then get two weeks off before hosting the Division VIII Championships in Tucson on Nov. 15.