By Chris Jackson
Arizona Daily Wildcat October 31, 1997

Icecats expect a more challenging Colorado opponent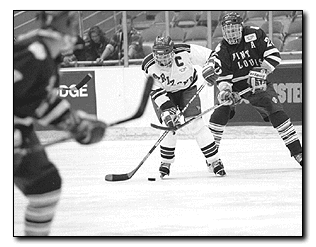 Tanith L. Balaban
Arizona Daily Wildcat

Arizona Icecat senior center and co-captain Ben Ruston (center) fends off a defenseman during last weekend's 12-3 win over St. Louis. Tomorrow night and Sunday, Ruston and his teammates face a much tougher test against unbeaten Colorado.


Last weekend the Arizona Icecats club hockey team didn't have to do a whole lot to beat its opponent.

After 139 shots against St. Louis University, 23 of which went into the net, the Icecats came away with a 2-0 record but a lot of lingering questions about the third line and who will start in goal.

This weekend, though, the opponent should be tougher, and also a little more familiar.

The Colorado Buffaloes skate into town, eager to avenge last year's four-game sweep.

Tomorrow's game at the Tucson Convention Center starts at 7:30 p.m., with the Sunday game beginning at 2 p.m.

"They're usually a pretty physical team," said Icecat coach Leo Golembiewski of the Buffaloes. "We anticipate them being a strong team this year."

Colorado had 73 players try out this season, and like the Icecats, have a lot of freshmen on its roster.

The Buffaloes started their season with two wins, beating BYU 16-2 and then defeating Arizona State 6-2.

They are one of the few teams to ever beat the Icecats at the TCC, the last win in Tucson coming in 1995, when they won 3-2. Last season, though, the Icecats dominated them in a 10-0, 6-1 sweep, before going to Boulder and winning as well.

This weekend the Buffaloes will face the third different Icecat goalie.

Freshman Jordan Bolton, who sat out the first two games after injuring his knee last month, will start tomorrow.

Golembiewski said he is still trying to decide who will be the starter for the rest of the season, noting he wants to give each of his three goalies a shot.

Sophomore Mike Tesi, who started in the Icecats' 12-3 win last Friday, will be the first back-up, with freshman Joe Peplinski, who nearly had a shutout in the Icecats' 11-1 win last Saturday, taking the night off barring an injury.

The Icecats have instituted some changes to the third line, with junior Brian Meehan taking over at center. Sophomore Tommy Thompson will move to right-wing, with Max Wilke at left-wing.

"We just shook things up a little," Golembiewski said.

Sophomore defenseman Kevin Baskel is returning after missing last weekend due to illness. He will play on the third line, Golembiewski said.

The Icecats' first two lines will stay intact. Senior center Ben Ruston scored seven goals and freshman Marc Harris had 10 points with two goals and eight assists against St. Louis.

"The season is still so young," Golembiewski said. "We're just using the games as building blocks. I'm real happy with the mix on the team. The team is developing a lot of character."