By Tory Hernandez
Arizona Daily Wildcat November 12, 1997

New student group advocates a 'no' vote on Union referendum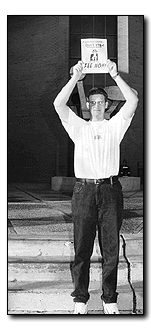 Nicholas Valenzuela
Arizona Daily Wildcat

Political science senior Jeff Schrade stands in front of the Memorial Student Union with a vote no flier. Schrade and his "Union Yes, Fee No!" is a committee of 10 who formed to campaign against next week's referendum vote on a $40 student fee to fund Student Union renovations.


Tired of the pervasive "Vote Yes" campaign urging students to support a $40 fee for a new Student Union, a group of UA students and alumni has kicked off a campaign offering students another side to next week's referendum vote.

"We decided there wasn't really a representation of students opposed to the fee," said Jeff Schrade, a political science senior who heads the "Union Yes, Fee No!" committee.

"They are advocating instead of educating," he said.

The committee was formed early last week to combat the "lopsided" campaign conducted by many fee supporters, such as the Associated Students of the University of Arizona.

Students will vote next week, Nov. 18 and Nov. 19, whether or not to charge themselves and future students $40 per semester for the next 25 years to help fund $31.5 million of $70 million in Memorial Student Union renovations.

"It's a fallacy that $40 is the cheapest offer for students," Schrade said. "Everyone is in favor of a new Union," he said. "But $40 is too much."

Schrade said administrators can't be sure that tuition will rise if students don't pass the fee.

"The tuition mix is so complex, you can't be sure what's making it go up," he said. "And they can't raise tuition at all three universities just to pay for our Union."

Including Schrade, who also coordinates graphic affairs for ASUA, the "Fee No" committee consists of about 10 active members. Schrade said his campaign has been funded from donations and total expenses have reached about $300. UA alumnus Paul Alvin said he donated most of the money covering the expenses to put both opinions of the referendum on a "level playing field."

"A lot of money is being spent by those who endorse a yes vote," Alvin said. "Students who disagree with this don't have the resources to get the word out and I am now in a position to provide those resources."

Though Alvin said his role with the committee is to provide advice and cover costs for the campaign, he did feel a sense of outrage at UA administrators when he learned of the proposal.

"I couldn't believe this was being shoved down students' throats by the administration," he said.

But some students say there just isn't enough information out there to make an educated vote.

"Instead of spending money telling students to vote yes, they (the administration) should lay out on the line what is going to happen with the building," said Jamie Dettling, an agriculture technical management senior.

Cheryl Wilder, a first year graduate in deaf and hard of hearing education, agreed.

"A lot of students just don't know enough about it to make a decision," she said.

ASUA President Gilbert Davidson, a referedum supporter, said he did not see any point to the "Union Yes, Fee No!" campaign.

"It's important to have another opinion, but if you do you better have a solution," Davidson said.

Schrade said he would continue to post fliers around campus for the next week, and has made speaking engagements at several campus clubs to dispel some myths about the fee.

The group handed out stickers and fliers during homecoming festivities last weekend to inform other alumni about the Student Union project and that students are being asked to foot part of the bill. Schrade said he hoped to persuade more alumni to contribute money to the project.

Additionally, Schrade and his group has posted fliers across campus- in the Student Union as well as classrooms. Table tents promoting a 'no' vote have also been placed on Student Union dining service tables.

Schrade said he hasn't felt outright animosity from colleagues at ASUA, but he said there was some underlying tension.

"Mostly, people have been respectful of my opinions and what I'm trying to do," he said. "We (members of ASUA) have said whatever happens, we are ready to drop any grudges and lobby on behalf of students."