By Michael Jacobs
Arizona Daily Wildcat November 12, 1997

Eat This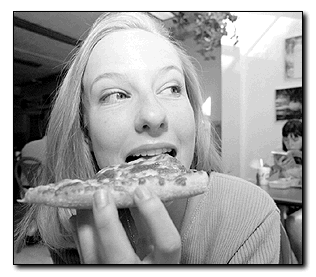 Kristy Mangos
Arizona Daily Wildcat

Katrina Calkins, an undeclared sophomore, enjoys a slice of pizza at Domino's Pizza in the Memorial Student Union. Calkins said that she eats pizza and other types of "fast food" two to three times a week.


Student taste buds may not need to resist the temptation of hot dog stands and hamburger joints, but too much beef and bun can create unhealthiness, campus nutrition specialists said.

Nutritional Sciences Associate Professor Wanda Howell said unless students are overweight, anorexic or otherwise unhealthy eaters, switching to the quintessential college diet of fats and carbohydrates is not a short-term worry.

"The diet that you are conditioned to and raised with provides preset conditions for eating," Howell said. "The key is to maintain appropriate body weight with college-age kids."

A survey conducted by the UA Wellness Center and the Campus Health Center in April indicated students consume 31 grams of fat a day, said Holly Avey, Wellness Center coordinator.

"We encourage people to believe that it is OK to eat fat. Fat is an essential nutrient," she added.

According to Avey, a balanced diet contains 50 to 55 percent carbohydrates and 30 to 35 percent fat - plus some residual protein.

About 67 percent of students believe that breads, grain, rice and cereal should make up the largest percent of their diet, she added, while most believe 40 percent of their calorie intake should be fat.

However, students do exercise.

"The students said that they spent 2.8 hours on average per week at the Student Recreation Center. That's a very healthy number," Avey said.

Education freshman Camron Dozier said he maintained his pre-college eating habits when he arrived at the UA.

"I always eat fruits and vegetables for meals exactly as I did at home," Dozier said.

Ralph Price, an associate professor and food scientist, said University of Arizona students fall into several different consumption categories.

"Some students are on the go and get whatever food they can," Price said. "There are people very concerned about their diet, and they will watch their diet."

Price's pitch to students: "There are no bad foods in essence, so eat a varied diet in moderation."

Howell said a prevailing preoccupation of college women about low fat intake was unfounded.

"At least 30 percent of calories at this age should come from fat," she said. "However, low fat seen on the labels of supermarket shelves products does not necessarily mean low calories."

Undeclared freshman Kerry Doucette said she thinks about fat, but it doesn't affect her buying decision.

"It all depends on the phase that I'm going through," Doucette said. "Sometimes I care about fat intake, but when I'm really hungry, I eat whatever I want."

However, Howell said, "The fat in these products is substituted with a carbohydrate that is calorie high."

Despite that, she said fast food restaurants are not inherently dangerous to healthy diets.

"I think that fast food places have reasonable choices. It's not the restaurant," Howell said. "It's the choice that students make at that fast food restaurant."

The basic premises that are pertinent to every age group are balance, variety and moderation, which equal good nutrition, said Howell.

There are also dangers of alcohol consumption to consider when deciding to tip the fifth skyward.

"Alcohol is a quick source of energy; however, if it is not used as energy, then it is stored as fat," said Stanford. "Most students drink on the weekends and the alcohol causes them to munch as well."

History senior David Ames said, "I party a lot and I don't worry about my alcohol intake."

"But my mother does," he added.

The U.S. Department of Agriculture formed a food pyramid, which is a model for a balanced diet.

The base is comprised of grains, rice, pasta and cereal. The USDA recommends between six to 11 servings a day from the bottom layer.

The middle layer is inhabited by fruits and vegetables, and the peak contains milk, yogurt, cheese, meat, poultry, fish, dry beans, eggs and nuts.