By Greg Clark
Arizona Daily Wildcat November 13, 1997

Snake Lover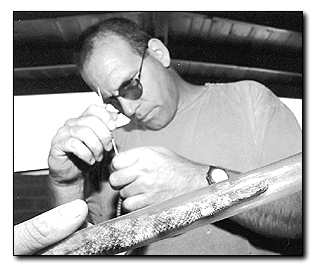 Adam F. Jarrold
Arizona Daily Wildcat
Matt Goode, UA graduate student in the department of renewable natural resources, examines a tiger rattlesnake to determine its sex. Goode is working on a project to evaluate the effect of housing development on the habitat of the snakes.

Even in Tucson, feeling-up rattlesnakes does not figure into most people's job description.
But for some, like University of Arizona graduate student and self-described "rattlesnake freak" Matt Goode, catching and examining snakes has become a lifestyle.
Goode, who as a biologist has been studying rattlesnakes since 1983, is now involved in a two-year study of tiger rattlesnakes in the foothills east of Tucson.
His aim is to increase people's understanding of rattlesnakes, with ultimate hopes that humans will learn to share the desert with snakes and that increased public knowledge will reduce the number of snakebites in the Sonoran Desert.
Goode, a student in the UA School of Renewable Natural Resources, and fellow-researcher Clint Boal, who recently received his doctorate from that department, have implanted radio tracking devices into 10 adult tiger rattlesnakes near Saguaro National Park East.
They monitor the snakes' activity and movement, capturing the snakes periodically to measure growth and note feeding episodes and reproductive cycles.
The study is being funded by a $45,000 grant from the Arizona Game and Fish Department's Heritage Fund. An additional $9,000 grant from Game and Fish and $5,000 from the Southwestern Parks and Monuments Association is being used to educate middle school students about rattlesnakes.
Goode said rattlesnakes are not the monsters many people fear and his education efforts working with students at Sechrist Middle School seek to show students the realities of the desert reptile.
For example, the snakes provide an important check on the populations of small rodents like the desert rat, Goode said.
"Rattlesnakes need a little bit extra help," he said. "Some wildlife will always be seen as an amenity people will want around," he said, but that hospitality does not extend to snakes.
"If you have a rattlesnake in your back yard, chances are, if you leave it alone and come back in an hour, it will be gone and you will never see it again."
Goode is interested in tiger rattlesnakes because little is known about them and they inhabit areas that are now being rapidly developed by humans.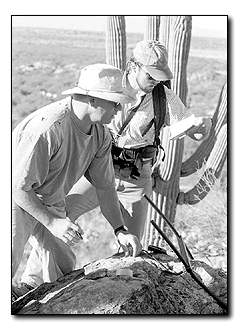 Adam F. Jarrold
Arizona Daily Wildcat
Matt Goode (left) and Clint Boal, who recently finished his doctorate in the UA renewable natural resources department, document a site where they found one of the tiger rattlesnakes in their study last Friday in the Saguaro National Park East. Goode has implanted 10 snakes with radio transmitters and then uses radio telemetry to find them again for weighing and measuring.
Tigers are found primarily in Mexico, but their range extends into central Arizona, with the population in Arizona concentrated mainly in foothill areas of Tucson and Phoenix, Goode said.
They inhabit rocky terrain in desert foothills, but descend into flat open areas during the summer to feed and reproduce, he said.
Last year, the Rural Metro Fire Department removed over 5,000 snakes from populated areas in Pima County and released them in unpopulated desert locations, said Melissa Smith, a spokeswoman for Rural Metro. Jude McNally, assistant director of the Arizona Poison and Drug Information Center, said more than 3,000 rattlesnakes are relocated annually from the Tucson area.
Firefighters will typically collect buckets full of snakes, then dump them out in an unpopulated area, Goode said.
"That translocation is not a very good management tool," he said.
A study that ended in 1995 which McNally conducted for the Poison Control Center found that one half of relocated snakes died within two years of being moved. Many were disoriented and unable to adjust to their new surroundings. Others simply returned to their original habitat, McNally said.