By Craig Anderson
Arizona Daily Wildcat November 14, 1997

Students protest Nike, UA deal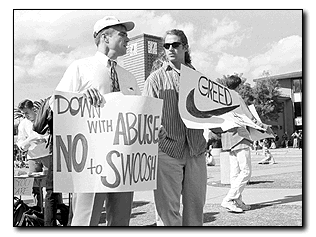 Leigh-Anne Brown
Arizona Daily Wildcat

James Tracy (left), media arts graduate student, and Noah Suby, geography junior, chat on the Mall yesterday while picketing against the school's use of Nike products. Several students were on hand to inform others of Nike's wrongdoings and students were asked to sign petitions against the use of Nike products.


Student protesters on the UA Mall yesterday condemned Nike as one of the world's "most egregious human rights violators," voicing their opposition to the UA's proposed multimillion-dollar deal with the athletic shoe conglomerate.

"Students have a hard time relating their actions to things that go on overseas," said protest co-organizer Monica Wilson, a German and anthropology senior.

"I want them to know they can have an impact."

Wilson and media arts graduate student James Tracy headed up the protest, which singled out the proposed sponsorship contract between the UA athletic department and Nike.

"By signing such a deal with Nike, the University of Arizona is complicit in the abuses and deceit that even Nike is not able to provide a suitable answer for," Tracy wrote in a Nov. 6 letter to the Arizona Daily Wildcat editor.

Seven protesters picketed in front of the Chemical and Biological Sciences building. Tracy said the primary goal of the demonstration was to heighten awareness about Nike's labor practices in developing countries, particularly East Asia.

Meanwhile, some students responded to the demonstration with a mix of curiosity, apathy and anger.

"It's irritating. Every week it's a different protest," said Cara Walsh, a political science junior. "Last week it was McDonald's."

The protesters handed out fliers and copies of a Nov. 8 The New York Times article that cited an independent accounting firm's report from a Vietnamese Nike shoe factory inspection.

The firm, Ernst & Young, wrote that the factory's predominantly female employees work 65-hour weeks for a less than livable wage while breathing noxious glue fumes and other carcinogens.

Protesters also asked passers-by to sign a petition denouncing the UA athletic department's proposed deal. The deal, which has yet to be finalized, would help finance many of the school's 18 Division I sports programs.

Tracy said he spoke to some UA athletes who he said became angry and accused his group of attacking the University of Arizona athletic department.

However, Tracy said he is a sports fan and would simply like to see the athletic department sign with an ethical company.

By the end of the one-hour demonstration, Wilson said the group had spoken to dozens of students and gotten at least 30 to sign the petition.

According to Wilson, the demonstration was simply a first step meant to raise student awareness and increase involvement in their cause.

In the long run, she hopes protesters at the UA and other universities can pressure Nike to improve its working conditions.

"The ultimate goal is not just to boycott Nike," she said, "it's to change Nike."

Tracy said that similar protests are taking place at Arizona State University, Duke University, and other schools.

Wilson said she had no idea how the administration would respond to protests and petitions.

"We're all pretty new at this," she said.

Still, some student onlookers expressed skepticism.

Psychology sophomore Jeff Toffoli said he noticed some of the protesters were wearing Levi's jeans, adding that Levi Strauss and Co. also has been criticized recently for violating workers' human rights.