By Greg Clark
Arizona Daily Wildcat November 17, 1997

UA to pay for Union neglect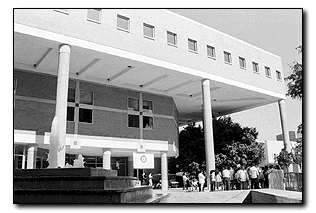 Leigh-Anne Brown
Arizona Daily Wildcat

A tour group stops at the entrance of ASU's Memorial Union Saturday. Arizona State University's union has been continually renovated since it was built in the early 1950's, while UA's facility has not had funds available for remodel the deteriorating building.


Poor planning and a history of underfunding have driven the price of renovating the Memorial Student Union to $70 million, Union officials said.

The problems of the Student Union stand in contrast to the consistent upkeep of Arizona State University's Memorial Union, both ASU and UA officials said.

UA Students will go to the polls tomorrow and Wednesday to decide whether to impose a $40 per semester fee on themselves to finance $31.5 million of the renovation.

"The Union was built in four or five different phases. Each decision seemed to be made in isolation rather than with regard to the whole," said Dan Adams, director of Student Unions.

For instance, Adams said, the 1971 Gallagher Theatre addition was built on top of the old women's gymnasium.

In 1991, the estimated cost to renovate the Student Union was $50 million, Adams said.

"People looked at it and said, 'that can't be right,' so they shirked it off and let it go," he said. "Now look at the cost."

Frank Farias, director of the UA Associated Students Bookstore, said the Student Union was built haphazardly.

"The building was built without a master plan," said Farias, who has been involved in the renovation planning process since he came to the UA in 1989. "It was built like a bunch of chicken coops stacked together."

Farias said the university administration has historically ignored the financial needs of the Student Union.

"The administration is not paying enough to meet the costs of the Union," Farias said.

Adams said the UA gives the Student Union about $900,000 per year, but takes most of that back by charging an administrative tax on union income, Adams said.

The administration takes 6.06 percent of all Union revenue, an amount totaling roughly $700,000 per year, Adams said. He said the Union spends most of the rest of its budget on employee, production costs, including McKale Center concessions, Park and Memorial Student Union food service and vending machines.

"There is really not much net gain," Adams said.

The result is that the Student Union has not had the money to fight off deterioration, Adams said. The Student Union's roof leaks, the foundation is deteriorating, and fire safety and accessibility problems abound, he said.

About $14 million will be spent simply to bring the building up to current building code, Adams said.

Building code issues range from creating access for persons with disabilities to installation of adequate sprinkler and ventilation systems, he said.

"If we did only that, we would still have many problems with the building and sooner or later we would have to do the renovation anyway," Adams said.

Farias said the Student Union renovation is sorely needed, if only to eliminate current safety hazards.

"If you had a fire in that place it would go faster than a barn full of hay because of all the open staircases," Farias said.

Adams said plans call for a 279,000-square-foot renovated Memorial Student Union.

At ASU, the 255,000-square-foot Memorial Union has been continually upgraded since it was built in the early 1950s, said Memorial Union Director Floyd Land.

ASU's first major expansion took place from 1968 to 1971, when the Union was closed for remodeling and the construction of a 94,000-square-foot addition, Land said.

To finance the roughly $2 million project, ASU sold bonds, which were repaid out of Memorial Union revenues, Land said.

Between 1989 and 1990, the Memorial Union expanded again, adding 45,000-square feet and renovating 16,000-square feet of the existing building at a cost of $6 million, Land said.

The ASU bookstore is financing that debt with payments of more than $500,000 per year for 20 years, he said.

Major expenditures at ASU have been kept down, Land said, because the university spends money annually to maintain the building.

The ASU administration supports the Memorial Union with a stipend of about $1 million per year, Land said.

That money covers the cost of operating the Memorial Union's student areas, meeting space and activity rooms, leaving $200,000 to $250,000 per year for Union upgrades and remodeling, Land said.

"ASU has constantly supported us in renovations year after year. The administration has been very generous," Land said.

Farias said the UA administration has not been as helpful.

"You have a building that's basically been neglected for 25 years versus one with a better original master plan that has been supported adequately over the years," Farias said.

At the UA, Student Union and bookstore revenues alone cannot finance renovation, Adams said.

The ASUA bookstore has already committed to paying a significant portion of the Student Union renovation, Farias said.

Farias has been saving store revenues to finance bookstore expansion since 1989, he said. That project has been incorporated into the Student Union renovation.

The bookstore has $3 million cash on hand, and has pledged additional financing of $1 million per year for 10 years, Farias said.