By Bryon Wells
Arizona Daily Wildcat November 19, 1997

Parking and Transportation announces plans for new garage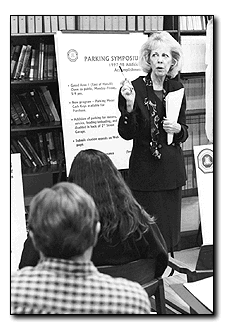 Ian Mayer
Arizona Daily Wildcat

Parking and Transportation Services Director Marlis Davis announces plans for additional parking spaces and improved permit service, yesterday afternoon at University Medical Center. About 25 people attended the meeting to give their input on implementing new Parking and Transportation programs.


A UA parking official announced plans for a new parking garage during an open forum yesterday, in addition to more spaces and improved permit service.

Parking and Transportation Services Director Marlis Davis said she's made a proposal to construct a new parking garage over an existing lot near East Sixth Street and North Fremont Avenue.

Another garage is being considered near Coronado Residence Hall, 822 E. Fifth St., in an area south of East Fourth Street. This garage would also be constructed over an existing paved lot.

Davis said the department has accomplished some of the ideas suggested in last year's Parking and Transportation symposiums.

"We add new Zone 1 spaces whenever we can," she told the 25-person crowd Monday, adding that a new Zone 1 lot has been added across from the Arizona Stadium.

Lots near North Euclid Avenue and East Sixth Street and North Campbell Avenue and East Sixth Street have been expanded, she said.

While the prices of Zone 1 permits have remained stable for two years, the prices of garage parking permits have increased to help pay for construction costs, Davis added.

"We had to borrow $1.5 million to build those garages," she said.

Davis also said:
Permit holders are now guaranteed the same permit as long as their paperwork is completed on time.

The department has plans for a telephone permit reservation program.

Employee and faculty parking permits can now be automatically renewed.

Parking citations can now be appealed online via the new Parking and Transportation Services website.
Davis said she holds the symposiums each year to find out what her department is doing wrong.
"The purpose is to gain some input on things that the advisory and student committees can take into consideration in implementing new programs," she said.
Management Information Systems senior Benjamin Steers said Monday he wanted to tell the advisory board about ideas he said were overlooked in previous meetings.
Steers suggested that an additional CatTran stop near North Cherry Street and East Speedway Boulevard would ease student woes about being displaced from the parking lots near residence halls during athletic events.
Davis responded her department has no jurisdiction there since the intersection involves city streets.
Veterinary sciences staffer Bonnie Poulos said Monday she would like to see more bicycle-friendly campus improvements, like individual bike lockers and road improvement.
She said East Second Street, north of the Memorial Student Union, is riddled with potholes.
"It's interesting how the Parking and Transportation department looks at that street as a bicycle area," she said.
During yesterday's meeting, some University Medical Center employees became upset about the lack of open parking spaces near their offices.
Dr. Mark Haussler took issue with the parking department's decision to divide a Zone 1 lot near UMC into an employee/visitor lot.
Haussler said the employee side is usually full and the visitors' side is usually empty.
"It's convenient for visitors, but not for those that actually work there," he said.
Davis replied the department may have made a mistake with the layout of that lot.
"I'm taking responsibility for this, we did take more than we needed," she said.
"I cannot tell you when it will be fixed, but it definitely will be discussed."