By Seth Doria
Arizona Daily Wildcat November 24, 1997

Wildcats teach Gauchos a lesson in season opener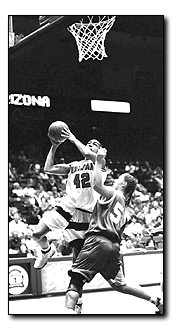 Tanith L. Balaban
Arizona Daily Wildcat

Marte Alexander (42), UA senior center, uses her 2-inch height advantage against UCSB freshman Nicole Greathouse to score a career high 24 points and grab a career high 11 rebounds in the Wildcat's 107-74 win yesterday at McKale Center.


What should a team do when its senior center has a two-inch height advantage over the opponent's freshman center that is playing in only her second collegiate game ever?

The answer is a simple one - milk the advantage for all it's worth.

And that is exactly what head coach Joan Bonvicini and senior center Marte Alexander did yesterday as the Arizona's women's basketball team rolled to a 107-74 victory over visiting UC-Santa Barbara.

Alexander scored a career high 24 points and tied a career high with 11 rebounds to go along with three blocks and two steals.

The 6-foot-4-inch center helped the 14th-ranked Wildcats hold UCSB to 35 percent shooting and forced the defending Big West Conference champions into 26 turnovers. The Gauchos fell to 1-1 on the season.

The Wildcats (1-0) meanwhile featured six players in double figures, including 10 from redshirt freshman Reshea Bristol and 16 from sophomore point guard Lisa Griffith, who hit four three-pointers,

UCSB kept the game close for a while, and even led 17-16 with about 12 minutes left in the first half, but couldn't stand up to the UA pressure defense.

The Wildcats went on a 15-3 run sparked by the play of Bristol and sophomore guard Felicity Willis, who tallied a career high eight assists, and never looked back, opening a 22-point lead by halftime.

"It doesn't matter when we go in," Bristol said, "as long as we do our jobs."

DeAngela Minter chipped in 18 points for Arizona to go along with six rebounds and three assists with only two turnovers.

Minter was also instrumental in keeping UCSB's best player, point guard Stacy Clinesmith, from rallying her team.

Clinesmith was badgered into seven turnovers while hitting only one of her eight shot attempts.

"Their defense was great," said Clinesmith after the game. "They took us out of our plays and momentum."

Arizona's win came as a Pacific 10 Conference rival, No. 4 Stanford, lost its second game in a row, 78-68 against Purdue, a team UA plays in Indianapolis on Dec. 20.

The Wildcats' next game comes against Northern Arizona University in Flagstaff next Monday. Their next home game will come as part of the Insight. Women's Classic against Northeastern on Dec. 5.