By Kristen Davis
Arizona Daily Wildcat November 24, 1997

UA volleyball upsets USC, drops to UCLA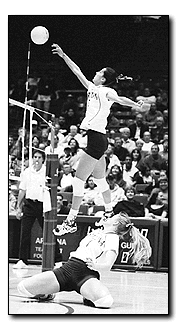 Dan Hoffman
Arizona Daily Wildcat

UA sophomore Erin Aldrich (5) spikes a ball set by senior Michaela Ebben (1) in Friday night's match against Southern Cal. The Wildcats went on to win the match, but lost to UCLA Saturday night.


Just when it looks like the Arizona volleyball team is ready to become a contender, it cannot seem to put together a complete weekend.

After defeating seventh-ranked Southern Cal in a exciting five-game match Friday at McKale Center, the ninth-ranked Wildcats appeared lifeless in most of Saturday's contest against No. 25 UCLA as the Bruins beat them in four games.

"For us playing back-to-back is a big physical thing," sophomore Raelene Morton said. "We come in and don't really do much to fight back. There's not really one reason why it happens. It just keeps happening."

It occurred early in the season when then-No. 15 Arizona defeated UCLA in a three-hour match in Los Angeles then scored just eight points en route to being swept by the Trojans the next evening.

It happened in the middle of the season when, after defeating Washington in four games on the road last month, the then-No. 13 Wildcats won just one game in a loss to Washington State the following night.

And, who could forget the Sunday collapse at McKale Center in October when the No. 15 Wildcats upset then-No. 6 Washington State Friday in a five-game thriller but lost a four-game decision to unranked Washington 48 hours later.

"The hardest thing for us as a group is the ability to play one grueling match and be able to be resilient. We weren't able to sustain a level," UA coach Dave Rubio said Saturday.

"We ran out of gas. We were exhausted and a step slow on everything. We were downright tired."

The Wildcats (20-6 overall, 12-6 Pacific 10 Conference) did, however, begin Saturday's match with the tenacity to win.

"We knew they'd be on a high especially after beating USC and they were certainly ready and fired up," said Amy Nihipali, who was one of five Bruins' who registered double digit kills.

The Wildcats trailed 9-14 in the opening game but, after escaping five Bruin game points, won the game, 18-16.

"You are usually deflated after a situation like that," UCLA coach Andy Banachowski said. "After that first one, the players knew this would be a marathon match. We felt we'd be in for a long one."

The Bruins (14-11, 9-9) were a bit surprised to have such an easy path to victory after the 40-minute opener though, cruising through the next three, 15-7, 15-4, 15-8 in the final home match for five UA seniors.

"This is a hard one for me to take because it took me a while to step up and play like I know I can. I feel like I let down the seniors," said Morton with tears swelling in her eyes. "I just know I can play better, but I waited too long."

Morton hit .333 (two kills, one error, three attacks) in the fourth game, but still finished the night with a .077 mark. She is not the only player who struggled. In fact, no one played a great game. Just three of Arizona's players hit better than .200. The team finished with a .159 hitting percentage, compared to UCLA's .287. In 104 attacks, UA's seniors combined for just 32 kills, while hitting 22 errors.

The Bruins jumped out to a 6-0 advantage in the second game, 10-4 in the third and 5-0 in the fourth.

"Everyone just started keeping to themselves," Morton said. "Nobody was contributing as a team. We were playing individually and no one wanted to step up."

The Wildcats know they cannot allow this trend to continue into the NCAA Tournament, which begins next month. Rubio said the tournament's format features back-to-back games up until the Final Four.

"Once we get going in the tournament there's going to be back-to-back games and we can't afford to play like this," Morton said. "We all talked about how we need to stay cool and be ready."

The Wildcats finished the season tied for fourth place in the Pac-10 standings with Washington State. Arizona had a chance to finish second, but the loss to UCLA helped Southern Cal and Washington end up with the second-best records in the conference. Stanford easily won the Pac-10 title with its 18-0 record.

The Wildcats began the final weekend of regular season play with a 10-15, 16-14, 15-12, 5-15, 15-13 upset over the Trojans, which clinched their best-ever Pac-10 record. Previously, Arizona's best conference record was the 11-7 mark it posted in 1993 to finish tied for fourth. Had the team won Saturday, they would have had a legitimate shot at getting a top eight tournament seed.

"It's important for us to stay fresh or beat a team in three. We need to be resilient in a five-game match and it's tough. It's a long, hard-fought match and it's tough to sustain the emotional and physical levels against a tough team," Rubio said.

"Every team suffers those effects. I don't care if you're a (third-ranked) Stanford or a (second-ranked) Penn State - if you play a five-game (match) and expect to play as sharp the next night, it's not going to happen."