By Craig Degel
Arizona Daily Wildcat November 24, 1997

The master speaks: Head Coach Lute Olson talks to the Wildcat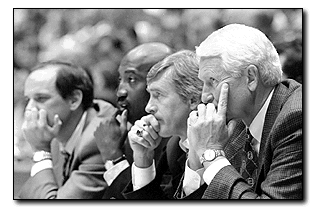 Chris Richards
Arizona Daily Wildcat
From left: assistant coaches Phil Johnson, Rodney Tention, Jim Rosborough and head basketball coach Lute Olson concentrate on a recent Arizona men's basketball game.
A Q&A with Lute Olson
Coach, you've been at it for 25 years now and a great deal of change has taken place since you started. How do you keep going and how do you stay fresh?
Well, the biggest thing from my end is that I still enjoy what I'm doing. I enjoy the coaching a lot more than I do some of the other things that are required of the job. But I think anyone that's in a position like mine recognizes that for every hour spent on the court you probably spend twenty hours doing other things, including public relations, charitable things and recruiting, and those, frankly, are the things that I think sort of wear you down. The coaching, it's why I'm it, that's sort of like the frosting on the cake. But as far as what keeps you going, I've always said I'll keep it together as long as I enjoy what I'm doing, as long as I have my health and as long as I have my energy.
What is it going to take for your team to repeat in this age when college basketball is so competitive?
Two things, I think you have to be very good, which I think we are, and you also have to be very lucky. You can't have key injuries, key illnesses, it's bad luck, you know? I mean, you can't afford to have a bad game or you can't afford to let someone else have a great game. That's the reason that it's only been done once in the last twenty-five years.
The players have obviously changed throughout the years you've coached. What have you done to adapt yourself to each new style of player?
I believe that life in general is a series of adjustments. And that goes with raising your family, as it goes with coaching a basketball team. But there's still certain things that can't change in basketball coaching, one of which is discipline. The second thing is that the game is and always has been one of fundamentals. A team has to be able to execute fundamentally, so it doesn't make any difference what your offensive and defensive philosophies may be, if you can't execute the fundamentals. You're not going to be successful, now even more than ten to twenty years ago. I think one of the most important things in coaching is that you're constantly striving to learn new things and improve your own athletes and to have the knowledge that it takes to teach the style that's the best for your team.
I know as a high school coach in Southern California, one of the most impressive things to me was when coach Wooden had his great teams at UCLA, he was adjusting his style to the talent he had. When he didn't have a Bill Walton or Lew Alcindor, he was going with a 6-foot-5 center and playing differently than when he had a 7-foot center. That is something we try to do here, when we had great big men we try to utilize them and when we have great guards we try to utilize them. And even going from last year's championship team to this, we have changed our defensive style considerably.
In the day and age of coach John Wooden he was able to keep his players all four years, in the 90's there have been a lot of early entries into the NBA draft, how have you been able to avoid that?
It was a different time and different place at that point, it just didn't happen then. But now, it's going to happened and it's going to happen even more. There is even talk now of a junior in the South that is going to apply for the NBA draft before his high school career is over. I am not interested in recruiting someone that may be coming out after one year, I think that is a disaster to our program. This year in our recruiting we had two players rated in the top five that had talked about coming out this year or after one year, we just dropped them off our list, one we didn't even make a home visit on. There is no way that somebody coming into your program for one year is going to help your program, in the long run they're only going to do more harm.
If you had to pick an All-Lute Olson team of any Arizona players, who would be your starting five?
That would be really difficult? You would almost have to pick it based on players that are first team All-Americans or whatever. Obviously you would have to have Sean Elliot on there. Damon Stoudamire, Steve Kerr, um, I always hate that I might be forgetting somebody. Probably Chris Mills and Pete Williams in the post at 6-7 only, that would probably be it. With the selection of those five would be based on the impact to the program, not necessarily saying that this guy is better than this guy, but I think in terms of the way they played while they were here and their background.
If you repeat this year and take your second title and the NBA comes calling, would you consider going?
No, I have never had an interest in the NBA and would not anticipate having an interest in the NBA. I don't think one could ever say never anymore, but I have been through the years of a lot of inquires, but have never, ever seriously considered leaving.
The talk in college basketball is always how strong the Atlantic Coast Conference is, it seems the Pac-10 never gets the credit that is deserves even with UCLA and Arizona winning titles in the 1990's. Is the Pac-10 better than the ACC, or is it even an issue?
I am not sure it is an issue. The point is that it's never going to be rated as highly as the ACC, because the media centers are in the east and the time zone factors are a huge problem that for the West will never be solved. Even during the time that UCLA was dominating the scene, it was never UCLA and somebody else from the west, it was always just UCLA. Last year everybody had to at least accept the fact, even the Eastern press, that when you have four teams from the same conference in the Sweet Sixteen, you have to recognize and give credit for what had to be the toughest conference in America last year. I personally don't think that will change though because of the dynamics of the time zones.
Developing a minor league system for the NBA has been brought up recently, is that something you would be for or would that just encourage the jump from college?
I would be opposed to it. There would be a few kids that it might be better for them. But I think the number of kids right now that would take the easy way out and go into that kind of league as opposed to going to college, I think would be a disaster for a lot of kids. There are a lot of kids that go into college that maybe are not that prepared or weren't even that interested. After they go to college they are so much better off for their future preparation for life. Basketball is not something that lasts the rest of a person's life, that is the thing that most everyone in coaching tries to point out. The air is going to go out of the ball and you have more than half of your life to live after that. What are you prepared to do? I think it would be disaster to do that rout.