By Joel Flom
Arizona Daily Wildcat November 24, 1997

Above the rest: Publications and players agree Simon, Bibby form nation's best tandem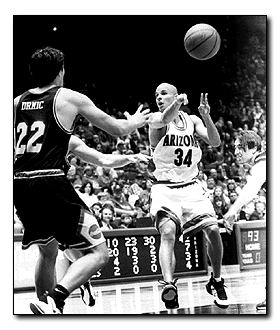 Nicholas Valenzuela
Arizona Daily Wildcat
UA senior guard Miles Simon

There seems to be little argument among media professionals and sports fans when the question arises of which college basketball team has the best backcourt.
Sporting News calls UA senior Miles Simon and sophomore Mike Bibby the number one duo in the country, as does Street & Smith, Althon Sports, and Inside Sports to name a few.
It makes sense, the two led Arizona to its first national title last season and had all summer together to improve.
Before playing a single game this season, the backcourt tandem have an impressive resume. Both are preseason All-Americans and Playboy All-Americans. Simon and Bibby were both named candidates for the Naismith College Basketball Player of the Year as well as the John R. Wooden Player of the Year.With all that is printed and said, Simon is trying to keep it from going to his head.
"It's exciting to go to stores and see things like that and pick up those magazine covers and have them in your room and house," the 6-foot-5 shooting guard said. "If you let that go to your head, that is when you will stop working hard. That is one thing about our team, after we won the championship, this summer everyone was working hard and came back a little stronger or a little bit quicker.
"That is what it is all about and that is why we will be strong this year."
Both praise the other for their success.
"Speaking for Mike Bibby, he is one of the best players I have ever seen play," Simon said. "He is amazing to play with. He knows where I am at and I know where he is at on the court. He handles the ball so well, shoots it so well, and just works really hard."
For Bibby, he realized how good they are as a team during the summer.
"We were at the Michael Jordan camp and we played some two on two with some of the college players up there," Bibby said. "I don't know what it is, but we play well together."
Simon, however, may have given Bibby the ultimate compliment.
"He is the best I have ever played with," Simon said. "Overall, he is the best one. Its his all-around game."
A bold statement from a player that has been in the backcourt with two current NBA players, San Antonio's Reggie Geary and Toronto Raptor Damon Stoudamire, 1995 Rookie of the Year.
"Damon was a great all-around player, but with Damon though, he had to take over games with our team," Simon said. "I think Mike has that capability but I don't think he has to, only if he needs to or wants to."
Some feel that Simon and Bibby should be with Stoudamire and Geary in the NBA.
"Both of them are first round draft choices," Morgan State coach Chris Fuller said. "Heck, they should be in the NBA right now, not beating up on us."
Over the summer, both players understood just how well known they are.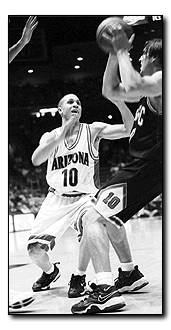 Nicholas Valenzuela
Arizona Daily Wildcat
UA sophomore guard Mike Bibby
"The thing that hit me,was when I was playing basketball this summer at the Oakley Sunglass factory and Michael Jordan was there," Simon recalled. "He was up top watching me and my friends play and he looked down, and Oakley people related this to me later, Michael said, "Is that Miles playing down there? If I had known that he was playing I might have played." When Michael Jordan recognizes you, you know you have done something special."
Miles Simon
34 - Senior guard 6-5, 202 Fullerton, California

Last season's statistics

G-GS 23-16
Min. 730
PPG 18.4
RPG 4.1
Ast. 97
FG Pct. .455
3FG Pct. .405
FT Pct. .754
Stl. 31

Best thing I did this past summer: Played with Michael Jordan and hung out with Dennis Rodman
If I could have any job in the world: Professional tennis player
Mike Bibby
10 - Sophomore guard 6-2, 192 Phoenix, Arizona

Last season's statistics

G-GS 34-34
Min. 1110
PPG 13.5
RPG 3.2
Ast. 178
FG Pct. .445
3FG Pct. .394
FT Pct. .701
Stl. 76

The thing I will always remember about winning the NCAA championship: The intensity
The one game in sports history I would have liked to have played in: Any one of the NBA finals