By Craig Degel
Arizona Daily Wildcat November 24, 1997

On a mission from God - Forward Michael Dickerson eager to forget memories of last season's slump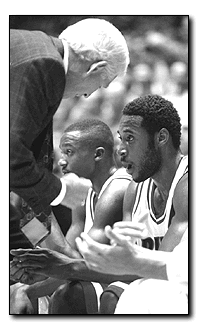 Chris Richards
Arizona Daily Wildcat

Senior forward Michael Dickerson has a few words with coach Lute Olson during the Melbourne Magic game.


Somewhere between the opening game of the 1996-97 season and its close with Arizona's defeat of Kentucky in the NCAA championship game, Michael Dickerson's shot left him.

Something had gone terribly wrong.

The honorable mention All-American, who opened the season with 31 points against North Carolina, couldn't buy a basket against those same Tar Heels in the national semifinals.

Then, Dickerson hit rock bottom. He sat on the bench as his teammates closed out the championship in overtime.

"People that didn't even know me would ask what happened during the tournament," Dickerson said. "They would recognize me for the wrong things."

What happened in the tournament? Dickerson was an ice-cold 25 for 68 in the six games, including 2 for 18 in the Final Four. Dickerson, who drained seven three-pointers in the season opener against the Tar Heels, hit just five in the entire tournament.

Frankly, though, Dickerson is tired of hearing it.

"That is just how people are," he said. "They always remember the negative things. I'm going to show them this year."

That statement should strike fear into hearts of many people, particularly anybody who saw Dickerson play through the first three games of the Pacific 10 Conference season. During that span, Dickerson produced four 30-point performances and averaged 23.5 points per game.

Then the bottom fell out. The return of Miles Simon from academic probation meant a switch in team chemistry and Dickerson seemed to suffer the most, at one point scoring just two points in a game against Tulane. Perhaps lost in his offensive woes, however, was the maturation of his defensive skills.

"We saw some positive signs from Michael last year in that he now recognizes how much he can help the team with his defensive abilities," Arizona head coach Lute Olson said. "Although he didn't shoot well in the Final Four, it was his defense that allowed us toaccomplish what we did - especially against Kentucky and Ron Mercer."

There is a light at the end of Dickerson's dark tunnel - his faith allows him that. Dickerson is the type of player who can cling to even a small glimmer of hope. The 22-year-old Dickerson is a deeply religious man whose maturity and conviction belie his age. In fact, his summer time was divided between the two driving forces in his life. In the 1997-98 Arizona media guide, he said the best thing he did last summer was "work on my game and better my relationship with God."

Dickerson is one athlete who thanks God when good things happen and means every word of it. His advice to children is "read the Bible and establish a relationship with God."

As for his game, there's only so much the man upstairs can help out with. So, give the rest of the credit to Seattle Supersonics guard Gary Payton. Payton took Dickerson under his wing, a pairing that offers contrasting styles. Payton is a trash talker.

"He would just say unnecessary things," Dickerson said. "I think it helped me. I know that nobody can out-talk him."

So, with a new lease on basketball life and his senior season unfolding with each new day, Dickerson said he has a renewed confidence in himself and in his game.

"Michael has assured us," Olson said, "that he will be the toughest player, mentally and physically, that we have on the floor this year."

Amen.
Michael Dickerson
Senior forward 6-5, 192
Seattle, Washington

Last season's statistics
G-GS 34-34
Min 1079
PPG 18.9
RPG 4.5
Ast. 51
FG Pct. .412
3FG Pct. .331
FT Pct..712
Stl. 37

Two words that describe me best: Quiet and laid back
Best game as a Wildcat: First game against North Carolina last year, scored 31 points on 7 of 10 from three point range.