By Craig Degel
Arizona Daily Wildcat November 24, 1997

Stepping up - Unsung Harris looks to silence critics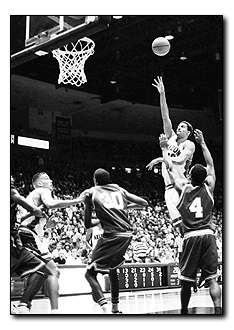 Katherine K. Gardiner
Arizona Daily Wildcat
UA junior Donnell Harris hooks a shot to the hoop against Morgan State.

When Donnell Harris stepped to the free throw line in the waning moments of UA's championship triumph over Kentucky, the city of Tucson held its collective breath.
Harris, who was a 58 percent shooter from the stripe last year, didn't exactly instill any confidence in those watching.
He was the only one who considered the shots a lock.
"I stepped to the line and I was like, 'These shots are going in,'" said Harris as he laced up his shoes at a recent practice. "And they went in."
Indeed they did, and the UA eventually came out on top 84-79 in overtime. Harris finished with eight points and seven rebounds. Still, as the new season approaches, the questions linger. Harris has been tagged by many as a guy whose talent never really bl ossomed. In his fourth year in Tucson, the redshirt-junior still answers to those who say he lacks what it takes to play at this level.
The 6-foot-11 Harris is listed at 203 pounds. Not exactly an imposing figure. The fans sat up and took notice of Harris' 25 points and 24 rebounds in last season's Red-Blue game, but he went on to average just 5.8 points and 5.4 rebounds for the season af ter being replaced in the starting lineup by A.J. Bramlett.
"People are going to say what they want to say," Harris said. "People say stuff all the time but that's everybody's choice. It's their own choice to believe in me or not. I don't care."
Arizona head coach Lute Olson is confident, but realistic, about Harris' ability to be more of a factor this season.
"With Donnell, his contribution this year is going to be dependent upon whether or not he has gotten stronger over the summer," Olson said. "His game improved a lot at the end of the season, but it is important that he gains strength so he can become more physical and aggressive down low."
Harris has added muscle, but lately a mysterious stomach ailment has taken its toll on Harris. He rarely eats and has had very little energy.
"I don't know what's wrong," Harris said. "I'm taking medication but the doctors still haven't found out what's wrong."
He is scheduled for another round of tests but is expected to be in Maui when the Wildcats open play at the Maui Invitational tonight.
His partner in the post, Bramlett, said he thinks Harris is a hard-luck guy.
"It sure seems like it," Bramlett said. "But, he keeps working hard and that's important."
Bramlett and Harris would form quite a tandem in the post but in Arizona's guard oriented offense, the two are rarely on the floor together. Both say they hope that changes.
"I think we're used to playing with each other," Bramlett said. "Two years ago we went against J.B. (Joseph Blair) and Ben (Davis) and we learned each other's tendencies and where we're going to be."
While Harris is obviously looking forward to this season and the opportunity to help his team win another title, he gets a smile when he thinks about his senior year and Arizona's new recruiting class. Jason Terry will be the point guard and Bramlett and Harris will finally get the chance to shine in a post-oriented offense.
"That would be excellent. I would love that," Harris said. "I don't know if this is true with the other guys but I know that a couple of them play better when they're looked upon as the guy."
The last time Harris was 'the guy', was in his senior season at North Salinas (Calif.) High School.
He averaged 30 points 18 rebounds and nine blocks a game.
Donnell Harris
13 - Junior center 6-11, 203
Salinas, California

Last season's statistics

G-GS 33-11
Min 601
PPG 5.9
RPG 5.8
Ast. 16
FG Pct. .484
3FG Pct. .000
FT Pct. .579
Stl. 21

Before each game I always: Eat ice cream
If I was the President of the United States for a day I would: Play golf