By Craig Degel
Arizona Daily Wildcat November 24, 1997

A players coach - Pastner savors role as educator of the game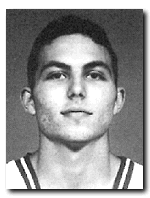 Wildcat File Photo
Arizona Daily Wildcat

Josh Pastner


Not that statisticians keep track of such things, but if a ratio of television time to actual playing time was charted, UA basketball guard Josh Pastner would be the NCAA record holder.

Whenever Arizona called a timeout last season, Pastner, then a freshman, was the first guy off the bench slapping hands and yelling encouragement. To the common observer, Pastner's impression was that of nothing more than an enthusiastic bench warmer.

But his teammates and the coaching staff knew something that the rest of the country, or even the fans in Tucson, did not.

"He is an invaluable member of this team," Arizona assistant coach Jim Rosborough said. "What Josh wants to do is coach, and this is a good apprenticeship for him."

That makes Pastner the only on-scholarship coach in the nation. Pastner was so important to the team, that he has been given a full scholarship for the rest of his career. Last year was to have been his only year on scholarship, but now, thanks to his work ethic and coaching contributions, he doesn't have to spend a dime on his education.

"It's a dream come true," Pastner said. "I'm thankful for everyday that I'm here."

Since the age of eight, all Pastner has wanted to do is coach basketball. Not many fourth graders spend their time at lectures on coaching, watching film and reading books but Pastner did. While most kids idolized guys with names like Magic Johnson, Michael Jordan and Larry Bird, Pastner was looking up to guys like Rick Pitino, Dean Smith and Mike Kryzewski. Oh, Lute Olson, too.

As a high school senior, Pastner ran a team composed of seven of the top players in the country. All are now in college ball.

"Half the team was older than him," said Pastner's father Hal. "He was the general manager and the coach and he had the respect of everyone on that team."

Now, Pastner is helping the defending national champions keep their place among the country's elite. Even if his natural ability is not on par with other members of the Wildcat team, Pastner is making an obvious contribution.

"There is no question that Josh realizes he isn't the greatest player ever born," Rosborough said. "But every guy from Miles Simon to Michael Dickerson realizes how valuable a team member he is."

That's high praise for Pastner who when he speaks of Arizona often sounds like a sweepstakes winner.

"It makes me feel super, words can't describe it," he said. "I just want to thank the players for giving me the opportunity."