By Kristen Davis
Arizona Daily Wildcat December 1, 1997

Wildcats in West bracket, could meet Stanford early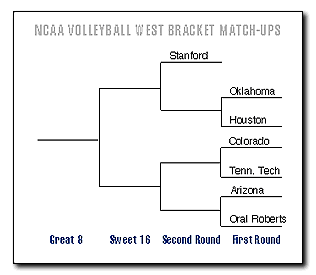 The volleyball team didn't get the worst scenario in the 1997 NCAA Tournament but they definitely have a tough route to the round of eight.
The team watched the selection show via satellite last night in a crowded room inside the men's basketball offices and was placed in the Mountain Region, one of two west locations. They play Oral Roberts in the first round Saturday at 5:30 p.m. Tucson time in Boulder, Colo., but meet Stanford, the defending champions who received a first round bye, in the Sweet Sixteen the following weekend should Arizona defeat the Colorado-Tennessee Tech winner Sunday and the Cardinal beat the Oklahoma-Houston winner in the second round of the single-elimination tournament.
"I had a feeling we'd be put in the same region as Stanford in the West," coach Dave Rubio said. "You keep you're fingers crossed as the tournament bracket is announced...and are always prepared for the worst.
"I'd be nice if we meet Stanford in the round of eight as opposed to the round of 16."
Stanford has won three of the last five national titles.
"We've got a long haul in front of us but it's tournament time and this is fun," senior Carrie Penfield said.
The Cardinal also defeated Arizona in both meetings this season.
"We were certainly put into a difficult region but that's out of our control. Now we need to take a look at what we need to do to prepare for Oral Roberts," Rubio said.
When the Wildcats' first round opponent was announced reserve middle blocker Marisa DaLee shouted, "Where's that?"
Oral Roberts is located in Tulsa, Okla. and are members of the Mid-Continent Conference. They compiled a 28-9 overall record and 8-0 conference mark and went 1-6 against ranked opponents.
Penfield admitted she didn't know anything about Oral Roberts or Tennessee Tech, a possible opponent in the second round.
But when the Wildcats resumed practice last night after a three day break, they learned a few things about Oral Roberts and will spend much of the next few days studying the Golden Eagles' game tape.
"The team has many foreign players...which means they probably have a lot of international experience," Rubio said.
All six of Oral Roberts' foreign players are from Brazil.
The tournament features many changes this year including an increased field of 56 teams compared to last season's 48 and back-to-back matches until the Final Four.
"I think if you look at it Arizona has got a tough road but you've got to look past it and move on," Rubio said. "Unfortunately for us we're stuck in the West but we'll make the best out of it."