By Doug Levy
Arizona Daily Wildcat December 4, 1997

Sliding and screaming
Photos courtesy of Columbia Pictures.
Arizona Daily Wildcat

Jerry O'Connell, the "Fat Kid From 'Stand By Me'," then and now. Things sure have changed. O'Connell currently stars in the sci-fi TV series "Sliders" and "Scream 2," which opens in theatres on Dec. 12.

"Nice, baby. U of A. Congratulations on last season."
Jerry O'Connell has said in the past that his role models were never actors, that they were all athletes. So, when he makes this remark, accompanied by a huge grin and a firm handshake, it doesn't come as much of a surprise. The young actor has come a long way in his career to reach the point he's at today, starring in the sci-fi television series "Sliders," and opposite Neve Campbell in the highly anticipated "Scream 2."
O'Connell got his first big break when he was only 11 years old, making his big-screen debut as Vern, the "fat kid" in Rob Reiner's "Stand By Me." You'd never guess it to look at him today, as he's anything but fat now. In fact, in later episodes of "Sliders," it seems as if he is gratuitously shirtless more often than fully clothed, showing off a physique that could make any young girl drool. And in the hit film "Jerry Maguire" he plays an up-and-coming professional quarterback, a top athlete people are fighting over. Again, he's come a long way.
However, it seems that the past continues to haunt Jerry O'Connell, though not in a bad way. He recently did a stint hosting the "Later" show on late-night television, opening up the episode with a comedy skit that followed him throughout his day. Everywhere he went, to pick up some photos, to meet a date, to eat at a restaurant, whenever he gave his name, people would stare blankly and say, "O'Connell? No, nothing here for O'Connell." It wasn't until he said "Look under 'F' for 'Fat Kid From 'Stand By Me''" that they would finally smile with recognition and help him out. "Oh, Fat Kid," they said, "I'm so sorry. Sure, come on in." The skit ended with O'Connell displaying a driver's license that read "Fat Kid From 'Stand By Me'." I had to ask if he really still got that kind of recognition after all these years, with so many other credits to his name now.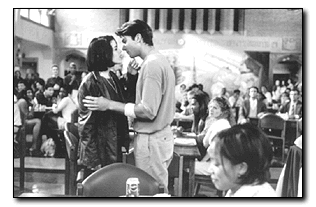 Photo courtesy of Dimension Films
Arizona Daily Wildcat
Jerry O'Connell with Neve Campbell in Wes Craven's "Scream 2."
"All the time," Jerry replied, "All the time. But it's one of those movies that'll never go away, and I love it. It was such a great movie. I mean, 'Stand By Me,' as far as I'm concerned, is one of the all-time best, and getting to be a part of that, that being my first gig, was just phenomenal."
Obviously, it's not a part of his past that he wants to forget. In fact, on "Sliders" they've even done some in-jokes based on the film, like when "Stand By Me" co-star Corey Feldman appeared on the show and they did the handshake from the movie. Making the classic film is an experience O'Connell said he will never forget.
"They picked me out of school; I had no idea what was going on. I had a choice that summer: go to summer camp or do 'Stand By Me.' I remember my mother, seriously, coming over to me and saying, 'Now, you know, we've already made the down payment for camp. You want to do that, if you don't feel comfortable doing this?'
"I said, 'Oh, no, I'll do the movie.' Such a great experience."
While O'Connell's star didn't take off immediately, like some of his co-stars from the film, he did continue to act, getting roles slowly but surely, including the starring role in the television series "My Secret Identity," in which he played a young superhero. And while instant fame wasn't in the cards, his hard work and dedication have paid off and left him in a better spot today than any of the other "Stand By Me" kids. Stardom was brief, after all, for Corey Feldman and Wil Wheaton, and River Phoenix's career hit a more permanent end.
More parts followed for O'Connell, including a number of television movies, a role in "Calendar Girl" with Jason Priestley and, more recently, the starring role in "Joe's Apartment," a film based on an MTV short about a guy and his roaches.
Unlike many young actors, Jerry didn't sacrifice his education for his career. He attended film school at New York University and received his degree in 1995, when he was 21. During that time, one of the things he studied was the work of horror-master Wes Craven. "I took a class called 'The Horror Genre' and he was all over it," said O'Connell. "I did a couple of papers on Wes in college. He's the guru of horror and I'm such a fan. I wanted to work with him immediately."
He got his wish with "Scream 2," the sequel to Craven's huge hit film "Scream," which deconstructed the very genre Craven helped to create. But, as much as he respected the man's work, Jerry was unsure of what would happen when he finally met Wes Craven in person. "You expect him to be a nut job. When I first met him, I had a pocketful of garlic and a crucifix in [my] hand," he said joking.
Any fears he had were soon alleviated when he began to work with the infamous director. In the end, O'Connell was even more taken with the man's work than he had been in college. "He's such a great guy," he said. "One of the best actor's directors I've ever worked with. So mild-mannered. I'd work for him [again] in a second. I'd get coffee for him on his next film."
It's not surprising that Jerry enjoyed working on such a highly-anticipated movie, alongside one of his longtime favorite directors, especially since there was an added bonus for him in the film: he gets to perform a rousing a capella rendition of the classic song "I Think I Love You" by Tony Romeo, standing on a table in front of a cafeteria packed with students. Of course, to some that might prove embarrassing, but not to O'Connell.
"That was awesome," he gleams. "That was so much fun ... I'm a big fan of karaoke. I love it. I go every week. I'm not gonna kid you, I'm a karaoke freak, man. If I hear that a place has karaoke, I'm there. If it has karaoke and some sort of buffet, it's terrific.
"When a scene like that is written, and you're singing such a cool song as 'I Think I Love You,' you would jump at the chance at that."
The scene didn't actually go off without a hitch, though. When it came time for looping (re-recording sound from the film that didn't come out right during filming), O'Connell was asked to come in and re-do the song. Apparently his original singing was just a bit off-key. Or more than a bit, he happily admitted. It took them almost a full day to finally get it right on tape.
"I really thought they were gonna have to pull a Milli Vanilli and get people in there to sing it," O'Connell said laughing. Later on, he suddenly exclaimed, "Seal! They should have got Seal to do it!"
It all worked out in the end, though, and fans can look forward to one of the funniest musical performances since, well, O'Connell's rendition of Nirvana's "Something In The Way" in "Jerry Maguire."
As for Jerry's other work, fans of "Sliders" will be happy to learn that although the show has been dropped from the FOX network, the future is still bright. "It's back," said O'Connell. "It's going to be on the Sci-Fi network. I'm producing it, directing five of them and my brother, my younger brother Charlie, who also went to NYU [to study] drama, is starring in it, playing my brother. So, the entire brothers O'Connell clan have jobs and they're working. We're all very excited. Student loans are slowly being paid off."
Now, that's a position any recent college grad would be thrilled to be in and a sentiment every one of us can share.