Staff Reports
Arizona Daily Wildcat December 4, 1997

Music Meltdown
Various Artists
Grooverider Presents The Prototype Years
(Prototype/Colombia)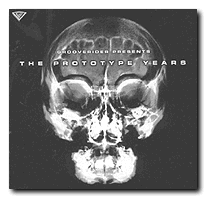 Grooverider is a name associated with the earlier, better, years of the UK dance music scene. He's been around for a while now, although most clubbers haven't really heard much about him. He's definitely a well-kept secret, especially here in the United States where only the real tech-aficionados know of him.
In 1993, Grooverider went into the studio and produced several tracks under the alias Codename John for his own label, Prototype Recordings. These tracks were left aside and the 'rider concentrated on furthering the British drum and bass scene. The Prototype Years brings us tracks by Grooverider and other respected and revered British jungle artists.
The best stuff includes the Ed Rush and Fierce track, "Locusts." In short, it's extremely dark and moody, with wicked bass and evil beats. Not for the handbag-house set.
"Silver Blade" by Dillinja is also worthy of a mention. It starts off in a slow and haunting key and is later bombarded by electronic noise, creating a non-conventional, unique and frightening musical experience.
Boymerang's track, "Still," is top-notch. They bring Big Black/Sonic Youth-ish sounds into the d'n'b realm, creating a harsh but strangely compelling tune, complete with hyper-oscillated drums.
Grooverider's stuff is great, although the sampled voice-overs get a little too monotonous. John B. shows us where it's at with his industrialesque "Secrets" track. If you're up for some jungle that doesn't sound like everything else, here you go.
-James Casey
Bush
Deconstructed
(Trauma Records)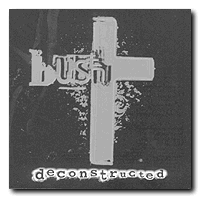 "Bush" has always been sort of a dirty word. The kind of word that could make Beavis and Butthead degenerate into fits of uncontrolled laughter. A few years back, along came a band called Bush, which made the word still disagreeable, only in a different way. Mention Bush, the band, to most people and you'll elicit some sort of a negative response. Which is undeserved, for the most part. While not a completely original group, Bush puts out some good music. True, it's not cool to like them, so you probably won't admit it if you do. But they are a decent rock band.
That, however, does not explain why someone felt the need was there for a collection of remixed versions of Bush songs. Yes, the lines between rock and dance music are becoming increasingly blurred these days, but that's only because of experimentation by the bands themselves. When you take a song that was written as a pure rock song and try to make it danceable, you damn well better know what you're doing if you don't want the result to sound awful. Most of the artists represented on Deconstructed don't seem to know what they're doing. The first single off the album, "Mouth (The Stingray Mix)," has already been released to the radio and MTV and is representative of just the kind of boring, annoying waste on the rest of the disc. The techno is typical, the jungle uninspired and Gavin Rossdale's vocals, about the only thing most of the remixers leave in from the original songs, don't fit with any of it.
The only good tracks come from Goldie, Tricky and Philip Steir, but they don't save the disc. Tricky's track, "In A Lonely Place," can already be found on the soundtrack to "The Crow II." The other two, while both very good, aren't worth the price of the album.
Anyway, the only people who are really going to buy this are the ones who put Bush on top in the first place: those pitiably uncool, proud fans and those embarrassed few (or many) who will hide it in their closet with their other Bush CDs and only listen to it when no one else is around. You know who you are.
-Doug Levy
Dance Hall Crashers
Honey, I'm Homely!
(510/MCA)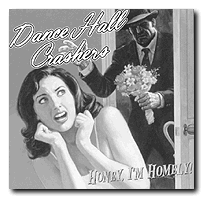 Ska ska ska, it's all you hear on the radio these days. Since punks have fallen in popularity, ska has become the new cool music, with everyone giving it a try. Dance Hall Crashers have ridden the wave of No Doubt's success in order to be noticed with this sophomore release.
Poppy tracks such as the first single "Lost Again" ooze a sugary type of naiveté, which in its own way is a bit charming and almost lovable. Songs are about boys, boys, Elvis, boys, whiskey, relationships and boys. Insanely repetitive in lyrical content, although a smile is guaranteed to appear when you see how tepid and wispy the whole affair is.
On the other hand, the harmonies created by both front women, Elyse Rogers and Karina Deniké, are actually pretty good and show ingenuity and flare in the realm of pop music.
There are a number of problems, though, including the way in which all the stuff is so similar and that there is no real deviation from the central ska core. There is no real effort to hone in on the band's skills as musicians and after a while, despite the good points, most of it sounds like watered-down elevator music.
A decent release but don't expect too much from them. If you could rent compact discs this would be ideal for a temporary take-home, as you're gonna tire quickly after listening to it more than once.
-James Casey
Retro Review - 1993
Lloyd Cole
Bad Vibes
(Rykodisc)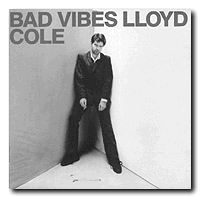 There are very few things in this life that I am passionate about; Lloyd Cole is one of them. Coming from a singer/songwriter tradition which is dead in the United States, Cole is one of those Brits who loves the whole American mystique. That means a deep infatuation with New York, country music and our icons of kitsch culture.
Bad Vibes, Cole's third solo album since breaking his Commotions up in 1989, takes our man out West into the glitz and grime of California. These songs mark a departure from the sentimental, often wispy Lloyd of comapct discs past; here he's louder, sexier, with more guitars. "Seen the Future" chronicles the fast-forward rush to the millennium (and all the culturally-correct lies we tell ourselves) with layers of disaffected vocals and studio-pat horns. Cole has admitted that "So You'd Like to Save the World" is about hyper-P.C. girls; the one in this song "might call it ultraviolet radiation / It's only sunlight."
Cole excels at the slight twist of phrase that turns the mundane into the sublime, and the West Coast setting gives him plenty to skewer. "Love You So What" is a unrequited-love lament that slips into amused self-irony (the wackiness of the duck quack in the background of the mix helps). "Wild Mushrooms" shows an Englishman's horror and delight at the sleazy side of sex.
Bad Vibes is, ultimately, the sound of this horror and delight at all of American culture. Cole loves all that he doesn't understand here and he turns his divided loyalties into smartly literate classics for our decade.
- M. Stephanie Murray