By Zach Thomas
Arizona Daily Wildcat January 14, 1998

AIC faces funding cut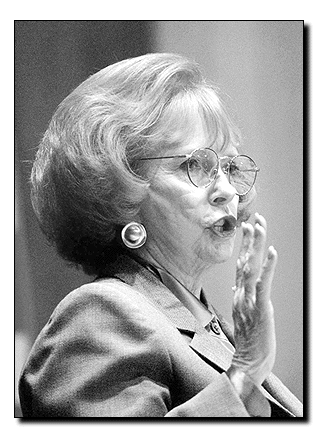 Associated Press
Arizona Daily Wildcat

Arizona Gov. Jane Hull delivers her State of the State speech to a joint session of the State Legislature Monday in Phoenix.


PHOENIX - Despite a proposed budget increase for the UA main campus next year, the Arizona International Campus is slated to be hit with slashed funding and a staff cut of more than 70 percent, according to Gov. Jane Hull's budget proposal released yesterday.

That news comes despite word that AIC could double its enrollment next fall when it moves from the University of Arizona Science and Technology Park to the main campus, AIC head Celestino Fern˝ndez said.

The governor's budget proposal would cut 18 of 25 full-time staff positions and $276,100 from AIC's state funding to bring it in line with the $8,390 average cost-per-student at Arizona's three universities. AIC's current cost-per-student is $20,901.

"It's not a realistic budget given the expectations of developing an institution that will eventually be independent," Fern˝ndez said, adding that the governor's budget is only a proposal.

"I'm not sure why people insist on making comparisons to existing universities," he added. "There are real costs up front when starting any institution and those are not recouped within the first few years."

Fern˝ndez, who has resigned his post effective in May, estimated that AIC will have at least 225 students next fall and has thus far received 350 applications.

The school currently boasts 106 students.

AIC had to borrow $950,000 from the UA main campus last year to make up for revenue shortfalls.

Hull spokeswoman Francie Noyes said AIC's budget was cut because of its impending move to the UA campus.

"The governor's budget recommendation in fact reflects the different costs of the school when it is back on the main campus," she said. "The budget recommendation was prepared with that in mind."

Overall, the UA would come out with a net budget increase of $8.1 million in the governor's design, putting its proposed funding at $316.9 million, well under the $331.6 million the university requested. This year's budget was estimated at $308.7 million, according to the governor's office.

Greg Fahey, UA associate vice president for state relations, said he believed Hull was holding back on some funds to keep enough money around to deal with the primary and secondary school capital finance system, which the state Supreme Court has declared unconstitutional. The court gave the state a June deadline to fix the system.

"Obviously some money is being kept in reserve, and we understand that," Fahey said.

Fahey added that Hull's budget proposal also included a 1 percent funding increase for merit pay raises and $5 million in funding for new programs in teaching and research statewide, including $500,000 for a new liver study institute at the UA.

UA President Peter Likins said he was disappointed at the $5 million new program allocation, as the UA had requested $12 million for new projects.

"The total growth of funds available for the UA is a few percent," he said. "That makes it impossible to keep up with inflation."

He added, "This budget is a starting point for us that simply must lead through this complex process."

Overall, the three state universities would come out $51.5 million ahead of last year's estimated budget numbers, under the gvernor's plan. The proposed increase included:

$27.9 million in pay plan funding

$8.5 million for increased enrollment at the UA and Arizona State University

$10.8 million for building refurbishment.

The legislative budget counterproposal, drafted by the Joint Legislative Budget Committee, was expected to be released this afternoon.

State legislators and the governor will try to consolidate their two budget proposals by the spring session's 65th day, in early March.