By Greg Clark
Arizona Daily Wildcat September 4, 1997

Nurses are on-call at 3 dorms this semester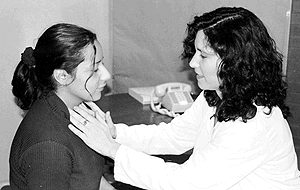 Leigh-Anne Brown
Arizona Daily Wildcat

Justine Confino, a nurse practitioner at the Campus Health Center, examines freshman Edna Yepiz at La Paz Residence Hall yesterday. Campus Health and Residence Life have teamed up for a housecalls program. Yepiz felt ill and complained of a sore throat.


Nurse practitioners at Campus Health Center are working at three UA dormitories this semester to diagnose ailments and provide students with medical advice.

The practitioners are setting up stations to be staffed once weekly at Manzanita-Mohave, La Paz and Coronado Residence Halls, said Lisette LeCorgne, a nurse practitioner at Campus Health who staffs the Manzanita-Mohave station on Tuesday from 2:30 to 4:30 p.m.

Nurse practitioners have a master's degree in nursing in addition to the bachelor's degree required for nursing certification. Unlike registered nurses, nurse practitioners can diagnose and treat medical conditions and prescribe medication.

The weekly residence hall stations are designed to help students take advantage of health resources they may not be aware of, LeCorgne said. Though nurses at Campus Health are available to all University of Arizona students, many students don't know they can receive medical attention at the Campus Health Center, or think it is inconvenient to visit, she said.

"We're at the residence halls to give advice and recommendations, and if it's more serious, we refer them to the Campus Health Center," LeCorgne said.

Although the stations are set up at only three residence halls, any registered student is welcome to seek advice from the nurse practitioners free of charge, LeCorgne said.

"This is not limited to students living at those residence halls. We just had limited funds to do it, so we're starting out at these three halls."

Other nurses staff stations at LaPaz Residence Hall from 2 to 4:30 p.m. on Wednesdays and at Coronado Residence Hall Friday afternoons from 2:30 to 4:30.

LeCorgne said Campus Health officials recognized a student need for more contact with health care personnel last spring when they visited sororities in response to a food poisoning outbreak.

"We went in to treat students and they had tons of other medical questions, so we were encouraged to expand it and reach into the student community," she said.

Working with the health care personnel at Campus Health, officials at the UA department of Residence Life and Campus Housing decided to pilot the program at three residence halls.

"We wanted to have at least one nurse's station at each of the three campus areas, and within those areas, we decided to set up stations at the halls with the most students," said James Van Arsdel, director of Residence Life.

If student response is positive, and the nurse practitioners at the residence hall stations find continued student interest and need, Campus Health will expand to cover other residence halls in the future.

Though most students are still unaware of this outreach program, those who had contact with nurse practitioner Justine Confino yesterday at La Paz Residence Hall, reacted positively.

"I think it's a pretty good idea," said Louis Garcia, a religious studies junior, who works at La Paz. "Even though the health center isn't all that far, it is really convenient having (the nurse's station) in the hall."

"It saves us a trip," said history freshman Nick Sherbanee, who lives in La Paz. "My roommate is sick right now, I'll send him down."

Confino said, "For most students who get sick here, this is the first time they've been sick away from home, and they're scared. We're here to help."

During station hours, Confino has given advice on wrist and knee injuries, checked out a sore throat and even given relationship advice, she said.

She has also been explaining the full range of health care services provided by Campus Health, and waiting to see how students at the residence halls respond.

"This is our maiden voyage," LeCorgne said. "We're waiting to see how students respond to it and if it is positive, then we'll adjust our schedule accordingly."

In addition to their experimental presence at the three dormitories, students can reach nurses for advice by calling a new direct line to the Campus Health nurses' desk at 621-6493.

Nurses at that number can assist students and give advice and schedule appointments, LeCorgne said.