By Bryon Wells
Arizona Daily Wildcat September 4, 1997

Two Tucsonans off to Europe to aid Bosnian elections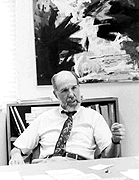 Ian Mayer
Arizona Daily Wildcat

UA political science Professor Edward Williams will travel to Bosnia to monitor the upcoming elections being held on Sept. 13 and 14. The elections will determine positions on municipal levels in various cities throughout the country.


UA political science Professor Edward Williams will be one of two Tucsonans to monitor upcoming elections in Bosnia.

Williams and former state legislator Larry Bahill were chosen by the U.S. State Department to act as election supervisors in municipal elections to be held at various locations throughout Bosnia Sept. 13 and 14.

The two will leave for Washington, D.C. tomorrow as part of about a 400-member team from the United States organized by the Organization on Security and Cooperation in Europe (OSCE). They will then fly to Bosnia the next day, where they will meet with their European counterparts.

The elections will determine positions on municipal levels in various cities throughout the troubled country, and according to Williams, may establish the mood for the pending parliamentary elections.

He said if the municipal elections are successful, "Then that might be a significant step towards having national elections."

Williams has had some experience in monitoring elections, in 1994 he participated in the presidential elections in Mexico. In Mexico, he said his duties included the counting of ballots and watching for corruption, such as illegal voting.

As for his role in Bosnia, he said it would be of the same nature, adding that his "will be a role in oversight and management, and crisis mediation."

Once Williams is situated in his assigned polling place, which is still unknown to him, he said he will know more of what to expect. He does not have any misconceptions about the present situation in this eastern European country. Williams said although much of the violence has "subsided significantly" after the signing of the Dayton Peace Accords in 1995, there are still tensions in the area, which remain after the bitter civil war between the various ethnic groups.

He said, "There is a peace. It is a very uneasy peace, a very precarious peace."

Larry Bahill, who now works with the Pima County voter registrations bureau, was enthusiastic about going to Bosnia. Bahill said the role of the United States in these elections is an important aspect to bring credibility to the elections and, "make sure the elections are run in a democratic manner."

As for Bosnia, Bahill agreed with Williams about what the municipal elections will mean for future political events in the country.

Bahill said, "Democracy is not something that is learned overnight," and countries newly adopting democratic governments need to "start at the local level, then learn from there."

Williams, who will only miss four class sessions because of the trip, will return in two weeks.