By Reena Dutt
Arizona Daily Wildcat September 4, 1997

Laughs just around the corner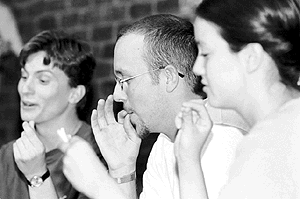 Charles C. Labenz
Arizona Daily Wildcat
Comedy Corner's producer Chris Nelson, political science junior (left), Brett Christensen biochemistry/German junior, and Andrey Ching anthropology/religions studies junior practice a skit entitled "Reefer" in the Student Union Cellar, yesterday evening.

With all the comedy troupes we hear about, you would never think that Tucson would have one of the few student-run, weekly-performing sketch-groups in the country. If you want to have a good laugh, take an hour to relax and check out Comedy Corner, on Fridays at noon, in The Cellar, in the Memorial Student Union.
Comedy Corner has been performing for over 14 years, entertaining fellow students with a huge taste for humor. In the early days, they were considered a stand-up group, calling themselves Eat to the Beat. They too performed in The Cellar, but were not sponsored by the university. Now, the Student Union Activities Board has financial responsibility of this organization.
This means that Comedy Corner has access to all the equipment they need to put on a one hour show once a week, and weekend improvisation-shows every other week, at no charge.
Their purpose in performance is simple-"To bring the funny to campus," said Brad Wallace, writer and performer for the comedy group. Their humor is all-original, written and performed by students. Anyone is welcome to write for the group, however there is no guarantee that the material written will appear in one of their shows. All a writer can do is hope for the best, especially when improvisation is inevitable. After sitting in on one of their shows, you will understand what I mean.
In order to enjoy Comedy Corner you need to have, shall we say, a "broad mind." Their jokes can poke fun at anything from breakfast foods and Greek Life, to charity organizations. The key to enjoyment, is to not take anything they say at face value. Instead, walk in assuming they will be creating a joke about at least one part of your lifestyle, and you will definitely get the full Comedy Corner-effect. Chris Nelson, another member of the comedy-group puts it this way-"Discretion is advised because we like to wallow in the all-encompassing protection of our 1st Amendment right of our constitution."
Whether you enjoy bad or good humor, Comedy Corner is definitely something to be checked out at least once in a human's life span. The performers are a very talented group of students, and their improvisations certainly prove this. Not only can they create a unique sort of humor through interacting with their audience, but they work extremely well as a group. They most certainly put in the correct amount of effort in the jokes they play, and most importantly, they make people laugh.
Unlike Arizona State University, this comedy group is not looking for national recognition through public television. They have talked about it, but it is not one of their main concerns at this time. As we know, they have been performing for years, and if entertaining fellow students and faculty is what they excel at doing, so be it. I personally wouldn't mind being able to watch them perform on television, but I obviously have no control over that. They are a sure replacement for "Saturday Night Live;" they bring 'funny' back into humor.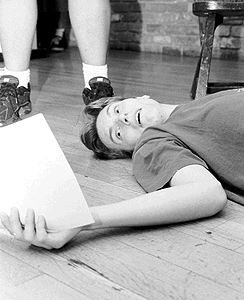 Charles C. Labenz
Arizona Daily Wildcat
Nelson practices his lines last night in preparation for tomorrow's show.
Another thing to note is that Comedy Corner is not limited to its present members. Most of the performers started out as writers and still write for the shows. If you want to be an actor, however, auditioning is recommended. In fact, the auditions for this year are coming up on September 8 at 5:00 p.m., so if you are interested, mark your calendars. Be prepared to embarrass yourselves, for that is exactly what Comedy Corner needs - confident and motivated comedians, without a self-conscience.
In any case, if you missed their first show on Friday, August 28 be prepared for their next, tomorrow. Who knows, maybe it'll become a weekly activity of your own. And if it's not your thing, I'm sure you'll find something to do between noon and one on Fridays. Listen to your Poe CD. Heh, heh just kidding.