By Staff Reporters
Arizona Daily Wildcat September 4, 1997

Music Meltdown

The Crystal Method,Vegas (Outpost Recordings)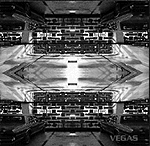 With the eyes of so many people diverted away toward Europe to witness the exploding spectacle of electronic music, some pretty interesting things have been going on right under their noses. Especially if they're anywhere near Las Vegas, the locale from whence this brilliant duo originated.
Of course, by now The Crystal Method have already hit it big anyway, on the strength of their singles "Keep Hope Alive," which samples the Reverend Jesse Jackson to achieve it's hyper-energized effect, and "Busy Child," a mingling of stirring sirens, acid bass, and a snatch from Eric B. and Rakim with a funky hip-hop groove. And there was also the collaboration with Filter for the "Spawn" soundtrack, a track based loosely on the Method's own "Trip Like I Do," the sexy psychedelic grinder that opens this album.
Vegas is the first full album from Ken Jordan and Scott Kirkland, the men behind the music. They have been around for a few years, though, their first big break coming from an opening slot for the Chemical Brothers in 1995. They owe quite a bit to the Chemicals actually, for, aside from that opening, they also made the world receptive to the particular brand of breakbeat and acid-jazz laden hip-hop that the Crystal Method employ.
Ken and Scott are experts at the use of samples, as one might expect, but the way they shape their songs around them is really quite startling. Every song has a distinct beginning, middle and end, with a consistent flow that is often absent from electronic music. And for those of you who just have to have consistent vocals, there's even two bouncy tracks featuring singer Trixy Reiss.
Yes, Vegas is sure proof that the Crystal Method is a method that works.
­Doug Levy
James Taylor Quartet, Creation (Hollywood Records)
The theme song from "CHIPs" has got to be some of the coolest TV theme music ever. These guys obviously understand that, as this CD evokes the same kind of feeling as that classic tune. Filled with groovy little Motown guitar licks and hot bongos, James Taylor Quartet brings it home on the new album Creation. James Taylor, leader of the band, songwriter and organist, crafts soundscapes that are as gritty and funky as the city. Tunes like the title track are head-bobbing, red-muscle-car-driving, '70s-inspired, Streets of San Francisco stories.
And speaking of cop shows and red cars, the band covers the themes to both Dirty Harry and "Starsky and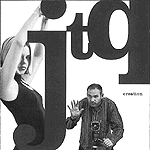 Hutch" in a way that turns the numbers into faster, dirtier, more soulful songs than you can dream of when you're watching television. Filled with all the cascading keyboards and horn parts that make you think "crime in the city," each tempo change is a new chase seen. Always with the wachukawa guitar.
Taylor's keyboard flashes back and forth between Herbie Hancock and something off the P-Funk mothership. "Check it Out" sounds like it was designed to be sampled by some west coast rap outfit.
The song "Road Rage" has a keyboard lick in it straight out of "CHIPs," cast against an arrangement that sounds like "later in the evening on the streets of L.A.," when the real living is going on.
­Tom Collins
Texas, White On Blonde (Mercury Records)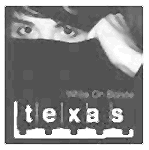 Coming out of England, where the band hit number one earlier this year, is Texas.
Now, if one thing is for certain, it's that the UK, with the exception of Michael Jackson and Madonna, has had the lock on pure, pop music for quite a long time.
Texas is a little bit of Sarah McLachlan and a little bit of Lisa Stansfield; a little bit of Johnny Maar jangle and a little bit of the Eurythmics, which is no surprise, considering Dave Stewart produced one of the tracks.
Yes, there is something of the good, old fashioned 1980s on this disc.
Tracks like "Halo" build with strings and keyboards to grandiose choruses, with a very O.M.D. feel.
On the Stewart produced "Put Your Arms Around Me," vocalist Sharleen Spiteri is like a less weathered Annie Lennox and the tune has the same sort of torch-song quality as Lennox herself can generate - it's a lot like her Diva single "Why."
Another standout number is "Black Eyed Boy," which is just few notes away from Diana Ross, but the chorus is much more aggressive than Motown tends to get - ragged, intense, turn- it-up-loud guitar.
The track "White on Blonde" is musically what "Ironic" could have been if it weren't an Alanis Morrisette song.
Put it on at your next party. Keep it in your walkman and just move around.
­Tom Collins
Various Artists, MOM II: Music For Our Mother Ocean (Surfdog/Interscope)
Charity is a good thing. Only the most cold-hearted and cynical amongst us will deny this. So, it's always nice to see people get together for the sake of charity, using their influence with the public to do something good for the world. Such is the theory behind this compilation, the second in a (likely) series of releases in support of the Surfrider Foundation, a nonprofit group dedicated to preserving the oceans of the world.
The only thing they seem to have overlooked when putting this CD together is that in order for a project like this to benefit anyone, people have to buy it. That means it has to be good. Or at least listenable. Unfortunately, MOM II barely even meets that minimal requirement.
Collected here is a series of previously released tracks from bands ranging from the mediocre (Sublime, Porno for Pyros) to the bad (Dishwalla, Offspring, Moby) to the downright awful (Counting Crows, Jewel). Of course, if you really want to hear Toad the Wet Sprocket go grunge, or if Pennywise covering the Beach Boys peaks your interest for some strange reason, then be my guest. True, 311's "Hydroponic" is a great song, but you can also get it on their album, Music and get a whole bunch of other good songs with it that way.
Only two tracks were recorded specifically for this release, the Pennywise track, and a sort of heavy-metal update of "Miserlou" by Dick Dale with Gary Hooey. As for the rest, you'd think that once you decide to compile previously released material you'd at least be able to put together what amounts to a good mix tape. It just goes to show what happens when you assume.
Sure, the Surfrider Foundation is a worthy charity, but they only get about $1 from the sale of each CD anyway. So, if you really want to help, why not just send them all the money you would have spent on this disc and spare yourself in the process.
­Doug Levy
Retro Review ­1994
Lush, Split (4AD)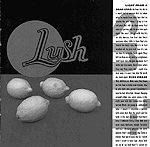 After the recording of their first full-length album, Spooky, Lush split from long-time producer Robin Guthrie, who had also worked on all of their previous EPs (collected on Gala). Perhaps this is one reason behind the title of Split, the record that followed, on which Lush attempted for the first time to realize the sound they had dreamed of, instead of the one Guthrie had forced upon them in the studio.
Much of Split is reminiscent of the band's older work, evoking the same chilling ethereal presence fans had come to expect from the group with tracks like "Lovelife" and "Blackout," but there were some pretty surprising things to be found here as well. The punk influence that had always driven singer/guitarist Miki Berenyi in her desire to play music began to rear its head, most notably in the frenetically poppy "Hypocrite," while vocalist/guitarist Emma Anderson displayed a talent for writing wonderfully touching tracks like "When I Die" and the "Invisible Man."
This is definitely a transitional album, a bridge between the old and new sounds of this once shoegazing, now aggressively poppy bunch, and in being so, it pulls the best from both ends. While Lush have released heaps of great music over the years, Split remains their best work to date. It is the mark of a newly liberated band, still clinging with one hand to the limbs of yesterday, but not afraid to fall.
­Doug Levy