By Joel Flom
Arizona Daily Wildcat September 4, 1997

Go-to guy: Duck tailback now healthy, ready to carry the team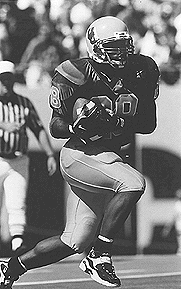 Photo courtesy of Oregon State Information
Oregon tailback Saladin McCullough ripped Arizona's defense last season for over 200 yards and five touchdowns on a sore hamstring. Now his coach claims he is healthy and the key to the Ducks' success.

When a tailback rushes for 223 yards and five touchdowns, one would expect his post-game comments to be about how good he felt that day.
One expects to hear those typical answers, like he can't quite explain it, but he felt unstoppable. So when Oregon's junior tailback Saladin McCullough, who ripped Arizona's defense for record-breaking totals, says that his hamstring was giving him problems the entire game and he wasn't even going at full speed, the truth can hurt.
McCullough's total yards were the third most in Oregon history, and the five rushing touchdowns equaled a Pacific 10 Conference record.
Oh, and he left the game just after the beginning of the fourth quarter because of his sore hamstring.
"It was a pretty good game," said McCullough earlier this week. "I played the game hurt. I wasn't even at 100 percent. I was more like 70 percent."
Cocky? Not in his mind, just him being honest.
It was not like his touchdowns were just leaps over the pile into the end zone kind of deals, either. McCullough had scoring runs of 42, 40, and 34 yards, constantly breaking Arizona arm tackles along the way.
So what was the secret to McCullough's success against Arizona last season? Everyone seems to have an opinion.
"They (the offense) blocked the dickens out of us," UA head coach Dick Tomey said. "He is very deceptive. He can slip and slide and make people miss. Sometimes it doesn't look like he is moving fast, but he is."
Oregon head coach Mike Bellotti said he could see McCullough's improvement before the game started.
"He was getting healthier and gaining a better understanding of the offense," he said. "Plus, our backs were up against the wall. This win stopped a 0-5 conference slide.
"Also, Arizona was beat up, coming off a multiple overtime loss."
Last season, McCullough rushed for 685 yards and 15 touchdowns while playing in parts of just seven games - including a two yard effort in his Oregon debut.
A hamstring injury left him on the sideline for most of the early part of the season. His attempts to come back proved to be too soon. Until he gained 101 yards against Colorado State and then the Arizona debacle showed why he was a USA Today and Blue Chip All-American.
Without reaching the NCAA minimum (75 percent of the team's games) to be included in the national leaders,however, McCullough has not received the national attention his numbers would merit. His scoring average of 12.86 points per game last season was better than that of the national scoring leader - Washington's Corey Dillon had a 12.55 average.
Despite playing in just four of eight Pac-10 games, McCullough was named all-conference honorable mention. His 15 rushing touchdowns (he was scoring every 8.1 times he touched the ball) was a school record.
Had he played in enough games, McCullough's 97.9 yard rushing average would have ranked him second in the conference.
"I don't have the exposure because I didn't play the whole season," McCullough said. "I feel like I am one of the best (tailbacks) right now."
And there is no reason McCullough can't be, if he remains healthy.
"He is very excited about coming into the season healthy," Bellotti said. "McCullough is a great, great running back. I hope he picks up where he left off."
If the team's last major scrimmage is any indicator of how well his feeling, things could get worse for his opposition this season. McCullough rushed for 66 yards and two touchdowns on just five carries. He was given the rest of the night off.
Kind of scary.
It's a good thing for Oregon fans too, because the Ducks don't even know who will start at quarterback in tonight's game. Bellotti said he would make his announce when the first play of scrimmage arises. And with an inexperienced offensive line and the loss of last year's top receiver to injury, the ball won't be the only thing McCullough will have to carry.
"Pressure doesn't bother me," McCullough said. "I have dealt with pressure my whole life. I think that everyone, though, will step up."
"I don't think he feels pressure," Bellotti said. "He's a happy-go-lucky kind of man."
Pressure to repeat his performance?
"Not really," McCullough said. "I just want to do whatever I need to do to help the team win."
The possibilities are endless for McCullough in 1997. With a healthy hamstring and a relaxed take on the season, his numbers could be huge. College football has already had a taste of what he can do at 70 percent. Now to see what McCullough will do at 100.