By Kristen Davis
Arizona Daily Wildcat September 4, 1997

Preseason's tough competition poses challenge for women's volleyball team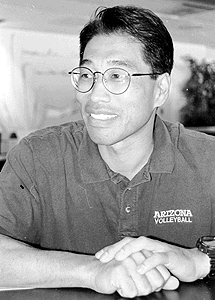 Leigh-Anne Brown
Arizona Daily Wildcat

Wildcat volleyball coach Dave Rubio discusses his team's pre-season schedule yesterday at McKale Center. This year's pre-season includes the Australian National Team, which plans on competing in the 2000 Olympics in Sydney.


In recent years, the preseason schedule has always given the Arizona volleyball team a chance to be undefeated once they begin Pacific 10 Conference play.

This season, however, the Wildcats' early competition should give them more of a challenge.

"This pre-season turns out to be more difficult than I imagined," UA head coach Dave Rubio said.

Arizona has dropped just four preseason matches over the last three seasons.

This season features contests against three teams that made the NCAA Tournament last season, including No. 24 Colorado State, and the Australian National team, who figure to compete in the 2000 Olympics.

"We're not going to walk through these teams. It's good, tough competition. This is as close as it can get to a Pac-10 team," senior Carrie Penfield said.

These teams are still not quite Pac-10 quality but Arizona's goal is unchanged.

"We want to build up as many wins as we can and be well off once the (Pac-10) season begins. Hopefully, we'll be undefeated," said Rubio of the Wildcats' nine preseason matches.

Arizona moved up one spot to No. 19 in the USA Today/AVCA poll after finishing the weekend 2-0 with a first place finish at the Carolina Classic. The ranking matches the highest slot the Wildcats received last season. They play their remaining seven nonconference matches at McKale Center.

Arizona is 19-3 in such matches under Rubio and has a 18-1 mark in its last 19 contests.

The Wildcats are well aware of the importance of these preseason matches.

A poor preseason record could come back to haunt them at the end of the season because their overall win-loss record plays a significant role in the selection for the NCAA tournament.

Arizona cannot count on having similar success against Pac-10 opponents, who make up the nation's most elite volleyball conference. Six of its 10 teams were among the Top 25 in the USA Today/AVCA's pre-season poll, including top-ranked and defending champion Stanford.

Rubio said Arizona hopes to be at .500 percent or better overall once they finish Pac-10 play.

Last season the Wildcats finished pre-season at 9-1.

They compiled a 10-8 mark in the conference for a fifth place finish and made their third tournament appearance in four seasons.

The Wildcats insist, however, that they are not feeling a lot of pressure to win all of its matches before it opens up Pac-10 play at UCLA on national television September 19.

"We're supposed to win these. I don't know if it brings pressure because we know we can beat them...In the Pac-10 we know we don't have it easy," freshman Allison Napier said.

"Dave (Rubio) keeps telling us that people are more out to beat us and that they're the underdogs. We know it's not the end of the world if we lost one," senior Stephanie Venne said. "We would take it as a learning experience if something were to happen."

Arizona, like most other schools in the conference, typically opens with low caliber teams to ensure it has a good record once the regular season concludes.

"(Preseason matches) obviously give you a sense of confidence. On the down side it may be a false sense of confidence. (Pac-10 play) is going to be different. It's a higher level of play and if we get over confident it can hurt us," Venne said.

Rubio said Arizona's preseason competition is sufficient preparation for conference matches.

"We don't need to play against another team like UCLA or Stanford," he said.

"Of course when you go out you always want to win. For us it's a matter of continuing to improve and finding out what our weaknesses are and what to concentrate on working on.

"As we get further in the season we focus on detail and small things we need to work on that really determines close matches."